San Diego Junior Theatre's 66th Season of Shows
Welcome to San Diego Junior Theatre's 66th Season. A Season of Unexpected Adventures!
Mermaids, ogres, pirates, fairies, mischievous cats, and affable dogs are just a few of the intriguing characters that inhabit the stories we will tell this year. These adventures are journeys into diverse cultures, imaginary lands, and brave new worlds. Here at JT, we specialize in unexpected adventures. Students find them onstage, backstage, and in the classroom. Audience members engage with them from the comfort of a theatre seat. These adventures take us by surprise and open our eyes to new ways of seeing the world.
The experiences and relationships that have taken root and bloomed in my life since I first came to Junior Theatre as a student (more than three decades ago!) have richly informed my life in ways that I could never have imagined. It's with pleasure that I now embark on a fresh adventure as Junior Theatre's new Executive Director. I look forward to meeting everyone in the Junior Theatre community.
I hope you can join us for our 66th Season of Adventure!
James Saba
Executive Director,
San Diego Junior Theatre
» Season Brochure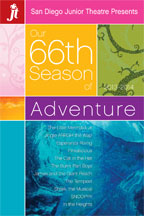 Our 2013/2014 Season
---
Past Shows