Esperanza Rising
January 3–17, 2014
Directed by Bryant Hernandez
By Pam Muñoz Ryan
Adapted for the Stage by Lynne Alvarez
The story of a wealthy Mexican girl whose privileged existence is shattered when tragedy strikes, Esperanza and her mother must flee to California. Forced to work in a migrant labor camp, Esperanza must learn to rise above her difficult circumstances and discover what she's truly made of. Set in the turbulent 1930s, and based on the popular book by Pam Muñoz Ryan,
Esperanza Rising
is a poetic tale of a young girl's triumph over adversity.
Shown in rep with The Cat In the Hat and Pinkalicious the Musical. Study Guide
A JT Premiere! Recommended for ages 8 and older.
»Download Poster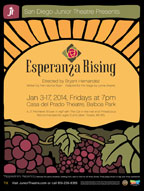 Cast
Mariachi 1 - Sonia Halle
Mariachi 2 - Pierre Cozic
Mariachi 3 - Abby Despain
Esperanza - Sofia Bourché
Hortensia - Vivian Casillas
Don Sixto/Luis - Roberto Quinones
Ramona - Emily Morrison
Servant Girl/Ensemble - Artemis Calderon
Marielena/Ensemble - Megan Palitz
Miguel - Garret Hoff
Okie Family Boy/Ensemble - Ben Weisenberg
Okie Family Father/Pistolero - Nick Asaro
Okie Family Mother/Ensemble - Shayne Cole
Isabel/Ensemble - Alexandra Adsit
Modesta/Ensemble - Lauren Basurto
Alfonso/Ensemble - Adam Rosenberg
Marta/Ensemble - Sofia Islas
Ensemble/American Woman - Nora Joyce
Ensemble/Woman 1 - Shelby Myrman
Ensemble/Woman 2 - Teia Shannon Wright
Ensemble/Woman 3 - Tali Peled
Ensemble/Mexican Soldier - Luke Barbarita
Ensemble/American Soldier - Luke Garbacz
Ensemble/Mailman - Mark Barahura
Ensemble/Agent 1 - CJ Rabine
Ensemble/Agent 2 - Nick Hatch
Ensemble/Agent 3 - Tyler Dahms
Ensemble Girl - Thais Santana
---
By Pam Muñoz Ryan. Adapted for the stage by Lynne Alvarez. Originally commissioned and produced by the Children's Theatre Company, Minneapolis, Minnesota. Esperanza Rising is produced by special arrangement with Scholastic, Inc., LLC, New York, NY. Production sponsored in part by the City of San Diego Commission for Arts and Culture, the City of San Diego Park and Recreation Department, and the County of San Diego.