San Diego Junior Theatre Tuition Assistance
TUITION ASSISTANCE
San Diego Junior Theatre is pleased to offer full or partial funding to families who would otherwise be unable to participate in our educational programs. Tuition Assistance can be granted to a family for up to two consecutive sessions (except summer camp). Separate applications must be submitted for each session.
Application deadlines apply, and should be confirmed before submitting an application by calling the Administration Office at (619) 239-1311. Because Junior Theatre receives a high demand for assistance each session, it is each applicant's responsibility to submit complete application forms and all requested documents before each deadline.
Applications are considered on a first-come, first-served basis. Applicants are informed of their eligibility one week prior to the first class or camp.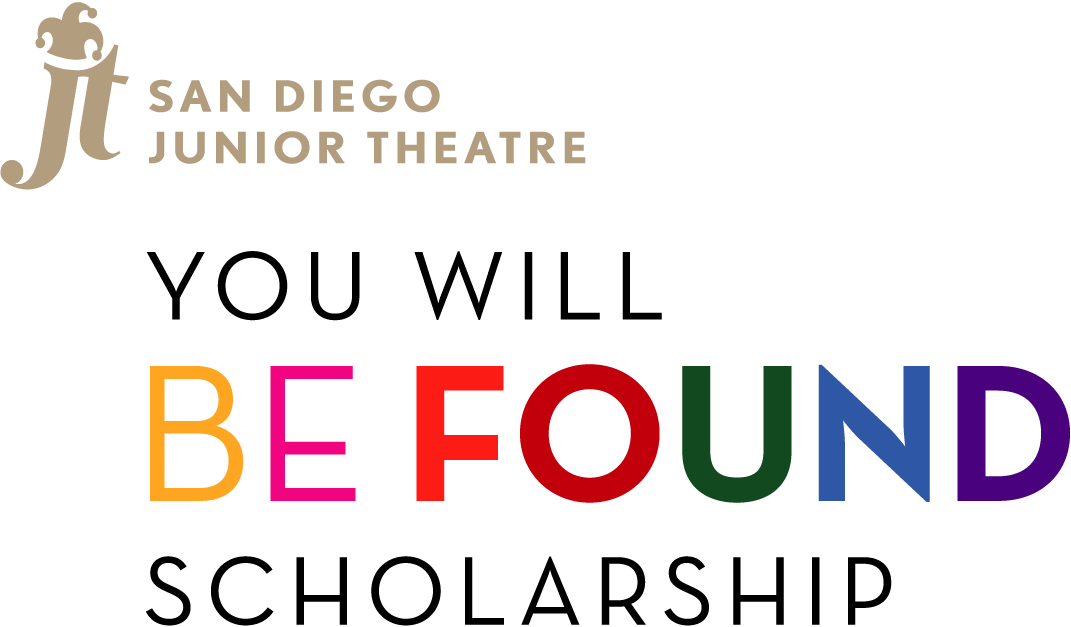 YOU WILL BE FOUND SCHOLARSHIP
The You Will Be Found Scholarship (formerly the Christian Rowley Scholarship) is designed to further promote diversity and inclusion at Junior Theatre. Each year, up to four students, between the ages of 8-17, will receive a one-year-long scholarship that covers one Junior Theatre class or camp per session (total of four) and all production fees.
The ideal scholarship candidate will be new, or have limited access to Junior Theatre and possess the following qualities:
• Inspired by some aspect of theatre
• Looking for a place to belong
• Has something unique (not necessarily theatre-related) to bring to the Junior Theatre community
The submission period for the 2022-2023 season is open now and closes March 15, 2023. All applications must be received by March 15 to be considered. Scholarships will be awarded on the opening night of Junior Theatre's spring production of Matilda The Musical, on April 28, 2023.
Please click below for the application form, which contains all the relevant details of what is required and where to submit.
If you have any questions about the scholarship or the submission process, please contact Education Director, Elissa Russell at 619-239-1311 x 233 or [email protected].
La beca You Will Be Found (previamente nombrada Christian Rowley Scholarship) está diseñada para promover la diversidad e inclusión en Junior Theatre. Cada año, se elegirán de uno a cuatro estudiantes entre los 8 y 17 años de edad para recibir una beca con duración de un año, la cual cubrirá los costos de una clase o campamento de Junior Theatre por sesión (cuatro en total), además de todas las cuotas de producción.
El candidato ideal para la beca será estudiante nuevo o con acceso limitado a Junior Theatre y reunirá las siguientes cualidades:
Inspirado por algún aspecto del teatro
Busca un lugar dónde pertenecer
Tiene una característica muy propia (no necesariamente relacionado al teatro) para aportar a la comunidad de Junior Theatre
El plazo para entrega de solicitudes para la temporada 2022-2023 está abierto y cerrará el 15 de marzo del 2023. Para ser considerada, toda solicitud deberá ser entregada a más tardar el 15 de marzo. Las becas se otorgarán la noche de estreno de la producción primaveral de Junior Theatre de Matilda The Musical el día 28 de abril de 2023.
Favor de pulsar debajo para acceder a la solicitud de beca, la cual contiene todos los detalles pertinentes sobre los requisitos y lugar de entrega.
Para cualquier pregunta sobre la beca o el proceso de solicitud de beca, favor de comunicarse con la Directora Educativa Elissa Russell por teléfono al 619-239-1311 x 223, o bien, mediante correo electrónico [email protected].
Made possible by generous grants from


DONATE
Junior Theatre is able to offer the Tuition Assistance Program thanks to our audiences, participating families, and community foundations. If you would like to designate a donation to this program, click the link below.
For more information, please call the Administrative Office.
619-239-1311