Audition Notices
CHECK THIS PAGE FOR UPCOMING PRODUCTION AUDITIONS AND PRE-AUDITION INFORMATIONAL MEETINGS
PRE-AUDITION MEETINGS
Pre-Audition Meetings are an opportunity to learn about an upcoming production as well as the basics of how a production runs at Junior Theatre. At this meeting, JT Staff is joined by members of the Production Team to talk about their vision for the show, what they are looking for in prospective cast members, and what they would like to see at auditions. This is a great opportunity to ask any questions you might have about the production or the audition process.
Please make sure to arrive prior to the meeting start time, so you can sign in, pick up paperwork and find a seat before the meeting starts!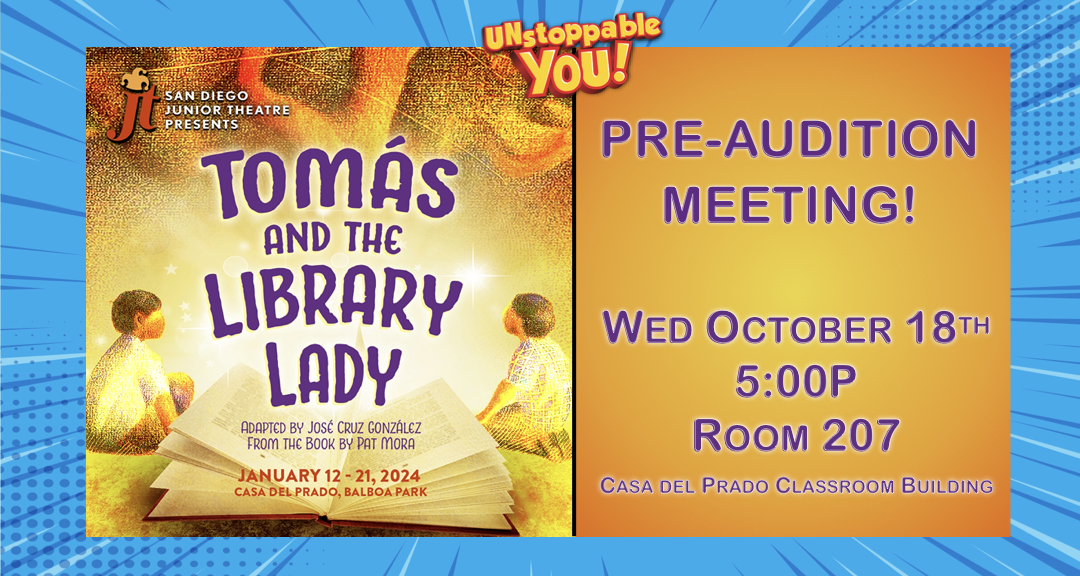 COVID-19 SAFETY GUIDELINES AND POLICIES FOR PRODUCTION:
–Junior Theatre reserves the right to change any of the above policy to reflect the current recommendations of the CDC and health organizations.–
Effective August 2022: masks on campus are no longer required, though strongly recommended for those who are feeling ill or have been in contact with an i'll individual. Student performers will be asked to remove masks for all performances and selected rehearsals. Additional safety mitigations/protections, including mandatory COVID testing, hand washing, social distancing, and contact tracing will be implemented as necessary.
Any student with symptoms of COVID-like illness should not attend rehearsals/ performances and contact JT Production Manager immediately. If symptoms occur while on campus, the student will be isolated and sent home immediately. They are advised to seek medical care if symptoms are severe.
Students may return to rehearsals when they submit proof of negative COVID-19 test or meet BOTH of the following criteria:
At least 3 days after resolution of fever (off fever-reducing medications like acetaminophen – i.e. Tylenol – or ibuprofen) and improvement in respiratory symptoms.
At least 5 days have passed since the symptoms started.
First time auditioning? Check out our
Audition Guide
and learn more about auditioning for Junior Theatre.
Prefer to work backstage?
Find out about our many
Tech Crews
and sign up today!