Audition Notices
CHECK THIS PAGE FOR UPCOMING PRODUCTION AUDITIONS AND PRE-AUDITION INFORMATIONAL MEETINGS
PRE-AUDITION MEETINGS
Pre-Audition Meetings are an opportunity to learn about an upcoming production as well as the basics of how a production runs at Junior Theatre. At this meeting, JT Staff is joined by members of the Production Team to talk about their vision for the show, what they are looking for in prospective cast members, and what they would like to see at auditions. This is a great opportunity to ask any questions you might have about the production or the audition process.
Please make sure to arrive prior to the meeting start time, so you can sign in, pick up paperwork and find a seat before the meeting starts!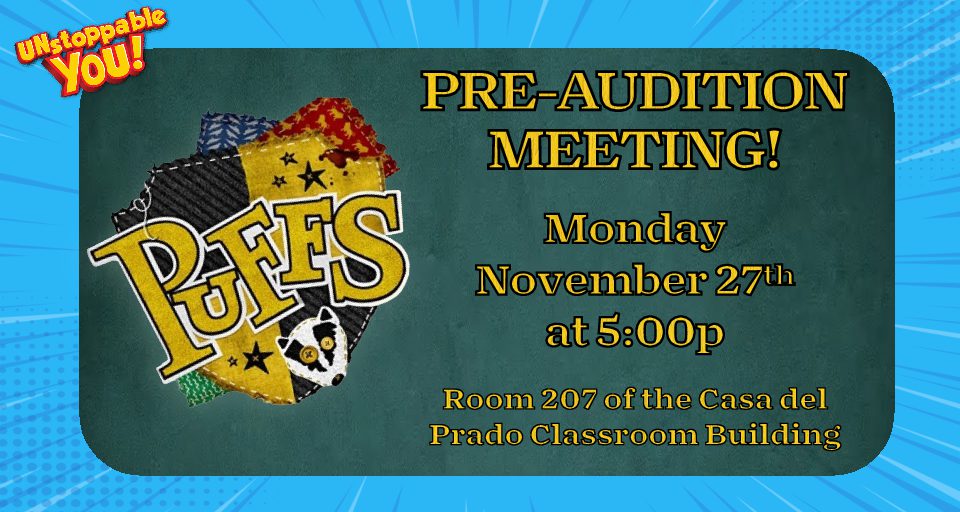 AUDITION NOTICE!

PUFFS
Director: Hunter Brown
First time auditioning? Check out our

Audition Guide

and learn more about auditioning at Junior Theatre.
Prefer to work backstage? Find out about our 
Tech Crew
opportunities
and sign up today!