Disney's The Little Mermaid Jr
October 25, 2013–November 17, 2013
In a magical kingdom fathoms below, the beautiful young mermaid Ariel longs to leave her ocean home to live in the world above. But first, she'll have to defy her father King Triton, make a deal with the evil sea witch Ursula, and convince Prince Eric that she's the girl with the enchanting voice. Adapted from Disney's 2008 Broadway production,
The Little Mermaid
features the hit songs "Part of Your World," "She's in Love," and the Oscar-winning "Under the Sea."
A JT Premiere! Recommended ALL ages.
»Download Poster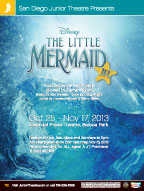 Cast
Ariel - Evelyn Sparks
Prince Eric - Shane Jost
Ursula - Sophia Oberg
Sebastian - Connor Marsh
Flounder - Pierre Cozic
Scuttle - Colette Huber
King Triton - Hunter Katz
Grimsby - Nathan Cooper
Flotsam - Tony Cabauatan
Jetsam - Maddy Ringer
Carlotta - Michaela Griffin
Chef Louis - Jake Goldfarb
Mersisters - Ruby Ross, Megan Decker, Brooke Collins, Emma Wineman, Felicity Bryant, Jazley Genovese
Sea Horse - Fiona Beyerle
Ensemble - Isabelle Pickering (dance captain), Michaela Griffin, Jake Goldfarb, Fiona Beyerle, Isabella Wagner, Alyssa Uffens, Shayne Cole, Maia Larom, Dariane Wood, Dennis Dizon, Danielle Dawson, Hayden Goldman, Olivia Wiese, Sophia Sugarman, Nicole Gustafson, Camden Rider, CJ Rabine, Maggie Brown, Chloe Owen, Elijah Kedziora, Garret Hoff, Elisabeth Renda, Gabe Smith, Jaimie Cooper, Elise Kuterbach, Gina Barba, Camille Fundingsland, Ava Bunn, Julia Dawson, Maia Forsyth, Sydney Crandall, Amanda Cooper, Artemis Calderon, Audrey Chapman, Katy Dawson, Emily Ince, Olivia D'Angelo, Maxine Sutton, Julia Starkey, Katrina Heil, Emery Campen, Tamsen Brown, Rayne Gonzalez, Ruby Ross, Megan Decker, Brooke Collins, Emma Wineman, Felicity Bryant, Jazley Genovese
Crew
Stage Manager - Mashun Tucker
Asst Stage Manager - Emily Morrison
Light Board Op - Nick Asaro
Spot Light Ops - Morgan Williams
Sound Board Ops - Mark Barahura, Amaya Duncan
Stagehands - Veronica Berg, Ashton Bradshaw, Samantha Candari, Lauren Carroll, Joshua Henson, Gianna Merghart, Genna Foster
Costumes/Makeup - Nicolette Candari, Kelsey Chodorow, Molly Nilsen, Zoe Nilsen, Tali Peled
Ushers - Matthew Garbacz, Luke Garbacz, Angelina Lutz
---
Music by Alan Menken. Lyrics by Howard Ashman and Glenn Slater. Book by Doug Wright. Based on the Hans Christian Andersen story and the Disney film. Music adapted and arranged by David Weinstein. Presented through special arrangement with Music Theatre International (MTI). All authorized performance materials are also suppled by MTI, 421 West 54th Street, New York, NY 10019. Phone 212-541-4684. Fax 212-397-4684. www.MTIShows.com. Production sponsored in part by the City of San Diego Commission for Arts and Culture, the City of San Diego Park and Recreation Department, and the County of San Diego.