July 25, 2014–August 10, 2014
Directed by Carlos Mendoza
Music by Lin-Manuel Miranda and Jason Mantzoukas
Lyrics Lin-Manuel Miranda
Book by Quiara Alegria Hudes
Conceived by Quiara Alegria Hudes
---
In the Heights
It's the universal story of a vibrant community in New York's Washington Heights neighborhood — a place where coffee from the corner bodega is light and sweet, the windows are always open, and the breeze carries the rhythm of three generations of music. A community on the brink of change, full of hopes, dreams and pressures. In the Heights won 2008 Tony® Awards for Best Musical, Best Score, Best Choreography and Best Orchestrations.
» Download Poster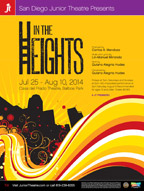 Cast
Usnavi - Michael Garcia
Vanessa - Samantha Wang
Benny - David Coffey
Nina - Vanessa Orozco
Sonny - Sam Brogadir
Daniela - Nisa Mercado
Carla - Natasha Partnoy
Kevin - Isaac Brieske
Camila - Yasmin Ruiz
Abuela Claudia - Jazley Genovese
Graffiti Pete - Mashun Tucker
Piragua Guy - Connor Marsh
Ensemble - Aminah Al-Jaber, Seann Altman, Kendall Buggs, Trystan Colburn, Brooke Collins, Wes Dameron, Larissa Garcia, Sydney Rose Horowitz, Shane Jost, Elijah Kedziora, Lily King-Smithson, Spencer Lynn, Lola Maniaci, Sebastian Mellen, Lane Palhegyi, Casey Purlia Johnson, Kayla Solsbak, Dariane Wood
Crew
Stage Manager - Justin Ruggiero
Asst Stage Manager - Emily Morrison
Light Board Op - Lauren Basurto
Spots - Maddy Williams, Shelby Myrman
Sound Board Ops - Mark Barahura, Luke Ruggiero
Stagehands - Nathan Cooper, Gavin Hamby, Imahni King-Murillo, Avery Solsbak
Costumes/Makeup - Ali Collins, Charley Montgomery, Mary Epperson, Tony Cabauatan, Colette Huber
Box Office - Rachael Lopez-Ringer, Maddy Ringer
House Manager - Fiona Beyerle
Ushers - Nicholas Asaro, Giovanni Cozic, Hunter Katz
A JT Premiere! Recommended for ages 12 and older.
Music by Lin-Manuel Miranda and Jason Mantzoukas. Lyrics Lin-Manuel Miranda. Book by Quiara Alegria Hudes. Conceived by Quiara Alegria Hudes. Development of In the Heights was supported by the Eugene O'Neill Theater Center during a residency at the Music Theater Conference of 2005. Initially developed by Back House Productions. Originally produced on Broadway by Kevin McCollum, Jeffrey Seller, Jill Furman Willis, Sander Jacobs, Goodman/Grossman, Peter Fine, Everett/Skipper. Produced through special arrangement with R & H Theatricals, www.rnh.com. Production sponsored in part by the City of San Diego Commission for Arts and Culture, the City of San Diego Park and Recreation Department, and the County of San Diego.