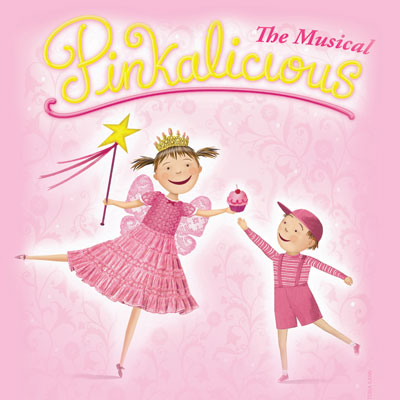 January 4–19, 2014
Directed by Ira Bauer-Spector
Book by Elizabeth Kann and Victoria Kann
Music by John Gregor
Lyrics by John Gregor, Elizabeth Kann and Victoria Kann
Based on the Book by Elizabeth Kann and Victoria Kann
---
Pinkalicious the Musical
Pinkalicious can't stop eating pink cupcakes despite warnings from her parents. Her pink indulgence lands her at the doctor's office with "Pinkititis," an affliction that turns her pink from head to toe — a dream come true for this pink-loving enthusiast. But when her hue goes too far, only Pinkalicious can figure out a way to get out of this predicament. Pinkalicious the Musical is about learning the power of self-control and the importance of moderation.
Part of Rippledink's Repertory — shown in rep with The Cat in the Hat and Esperanza Rising. » Study Guide
Recommended for all ages.
» Download Poster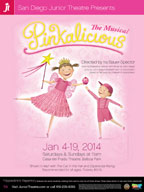 Cast
Pinkalicious - Chase Anichini
Peter - CJ Rabine
Mr. Pinkerton - Garret Hoff
Mrs Pinkerton - Shayne Cole
Dr. Wink - Anton Mabey
Alison - Sophie Maretz
Bee 1 - Pierre Cozic
Bee 2 - Nick Hatch
Bee 3 - Mark Barahura
Butterfly 1 - Emery Campen
Butterfly 2 - Sonia Halle
Bird - Emily Morrison
The Buzzettes - Nyomie Capell, Natalie Grant, Erin Longerbone, Natasha Mar, Olivia Marquez, Bella Rabine, Thais Santana, Sophie Valenti
The Pinkettes - Lauren Basurto, Vivian Casillas, Natassja Casillas, Nora Joyce, Shelby Myrman, Zoe Trudeau, Angelie Walker, Teia Shannon Wright
Book by Elizabeth Kann and Victoria Kann. Music by John Gregor. Lyrics by John Gregor, Elizabeth Kann and Victoria Kann. Based on the book Pinkalicious by Elizabeth Kann and Victoria Kann. Pinkalicious the Musical is presented by special arrangement with Theatrical Rights Worldwide, 570 Seventh Avenue, Suite 2100, New York, NY 10018. Phone 866-378-9758. Fax 212-643-1322. www.TheatricalRights.com. Production sponsored in part by the City of San Diego Commission for Arts and Culture, the City of San Diego Park and Recreation Department, and the County of San Diego.