Dr. Seuss' the Cat in the Hat
January 4–19, 2014
Directed by Teri Weisenberg Ang
Based on the book The Cat in the Hat by Dr. Seuss
Adapted for the stage by Katie Mitchell
From the moment his tall, red-and-white-striped hat appears around the door, Sally and her brother know that the Cat in the Hat is the funniest, most mischievous cat they've ever met. With the trickiest of tricks and craziest of ideas, he is certainly fun to play with, and he turns a rainy afternoon into an amazing adventure. But what will Mom find when she gets home?
Part of Rippledink's Repertory — shown in rep with Esperanaza Rising and Pinkalicious. » Study Guide
A JT Premiere! Recommended for all ages.
» Download Poster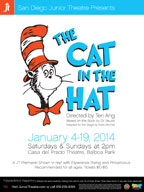 Cast
Cat - Roberto Quiñones
Fish - Anton Mabey
Boy - Luke Barbarita
Sally - Emery Campen
Thing 1 - Bella Rabine
Thing 2 - Natasha Mar
Ensemble - Alexandra Adsit, Chase Anichini, Nick Asaro, Sofia Bourché, Artemis Calderon, Nyomie Capell, Natassja Casillas, Tyler Dahms, Abby Despain, Luke Garbacz, Natalie Grant, Sofia Islas, Erin Longerbone, Sophie Maretz, Olivia Marquez, Megan Palitz, Tali Peled, Adam Rosenberg, Zoe Trudeau, Sophia Valenti, Angelie Walker, Ben Weisenberg
---
Based on the book The Cat in the Hat by Dr. Seuss. Adapted for the stage by Katie Mitchell. Originally produced by the National Theatre of Great Britain. Presented through special arrangement with Music Theatre International (MTI). All authorized performance materials are also supplied by MTI, 421 West 54th Street, New York, NY 10019. Phone 212-541-4684. Fax 212-541-397-4684. www.MTIShows.com Copyright © 2009 Dr. Seuss Enterprises, L.P. Production sponsored in part by the City of San Diego Commission for Arts and Culture, the City of San Diego Park and Recreation Department, and the County of San Diego.