The Tempest
March 28, 2014–April 6, 2014
The Tempest
is set on a remote island, where Prospero, the rightful Duke of Milan, plots to restore his daughter Miranda to her legitimate place using illusion and skillful manipulation. He conjures up a storm, the eponymous tempest, to lure his usurping brother Antonio and the complicit King Alonso of Naples to the island. There, his machinations bring about the revelation of Antonio's lowly nature, the redemption of the King, and the marriage of Miranda to Alonso's son, Ferdinand. One of Shakespeare's later plays,
The Tempest
draws on the themes of magic, illusion, and music.
A JT Premiere! Recommended for ages 8 and older. School Day Show: April 1, 2014.
» Download Poster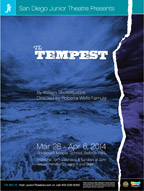 Cast
Alonsa - Penny Cohen
Sebastian - Ruby O'Brien
Prospero - Isaac Brieske
Antonia - Jade Moujaes
Ferdinand - Alex Huber
Gonzala - Vivian Casillas
Caliban - Anton Mabey
Trincula - Colette Huber
Stephano - Shane Jost
Master of the Ship/Juno - Teia Shannon Wright
Boatswain - Jaimie Cooper
Mariner/Ceres - Jennifer Burch
Mariner/Iris - Gavin Hamby
Miranda - Sophia Oberg
Ariel - Kayla Solsbak
Crew
Stage Manager - Ruby Ross
Asst Stage Manager - Lauren Basurto
Crew - Kendall Buggs, Emery Campen, Amanda Cooper, Pierre Cozic, Katy Dawson, Danielle Dawson, Jazley Genovese, Josh Henson, Spencer Lynn, Olivia Wiese, Gabe Smith
---
Written for the stage by William Shakespeare. Production sponsored in part by the City of San Diego Commission for Arts and Culture, the City of San Diego Park and Recreation Department, and the County of San Diego.