About our Community Outreach Programs
Junior Theatre's outreach programs can be customized to meet the needs and interests of your students as well as the learning goals of your classroom. Programs may be incorporated into the school day or offered after school. (Minimum class requirements of one hour per class meeting.)
San Diego Junior Theatre's education outreach programs offer a variety of drama experiences for students grades K-12. Activities can be incorporated into the school day or can take place after school, and all programs meet Visual and Performing Arts standards.
SCHOOL DAY PROGRAMS
During the school day, we offer workshops that focus on introducing students to drama through creative activities. We can integrate drama into history lessons, children's literature and even science. These programs also focus on playwriting skills which meet the Language Arts Standards.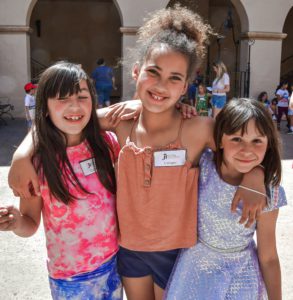 AFTER-SCHOOL PROGRAMS
Students in our after school programs will develop their theatre skills (body, face, voice, teamwork, imagination) and then present their work to an invited audience of families and friends on the final day.
STUDENT MATINEES AND THEATRE-IN-THE-PARK WORKSHOPS
Plan a field trip by purchasing group tickets for special matinee performances of our mainstage productions. Receive a show-specific Study Guide to review with your students. For a deeper dive, you may book a Theatre-In-The-Park workshop that takes place before or after the show. Students will get to participate in games and activities related to show themes.
To book a student matinee for our 76th Season (October 2023 – July 2024) please click here.
For more information on our school programs and workshops, please contact Education Director, Elissa Russell at 619-239-1311 x 223.
For more information on our student matinee performances, please contact Director of Marketing & Patron Services, Anthony Zelig at 619-239-8355.