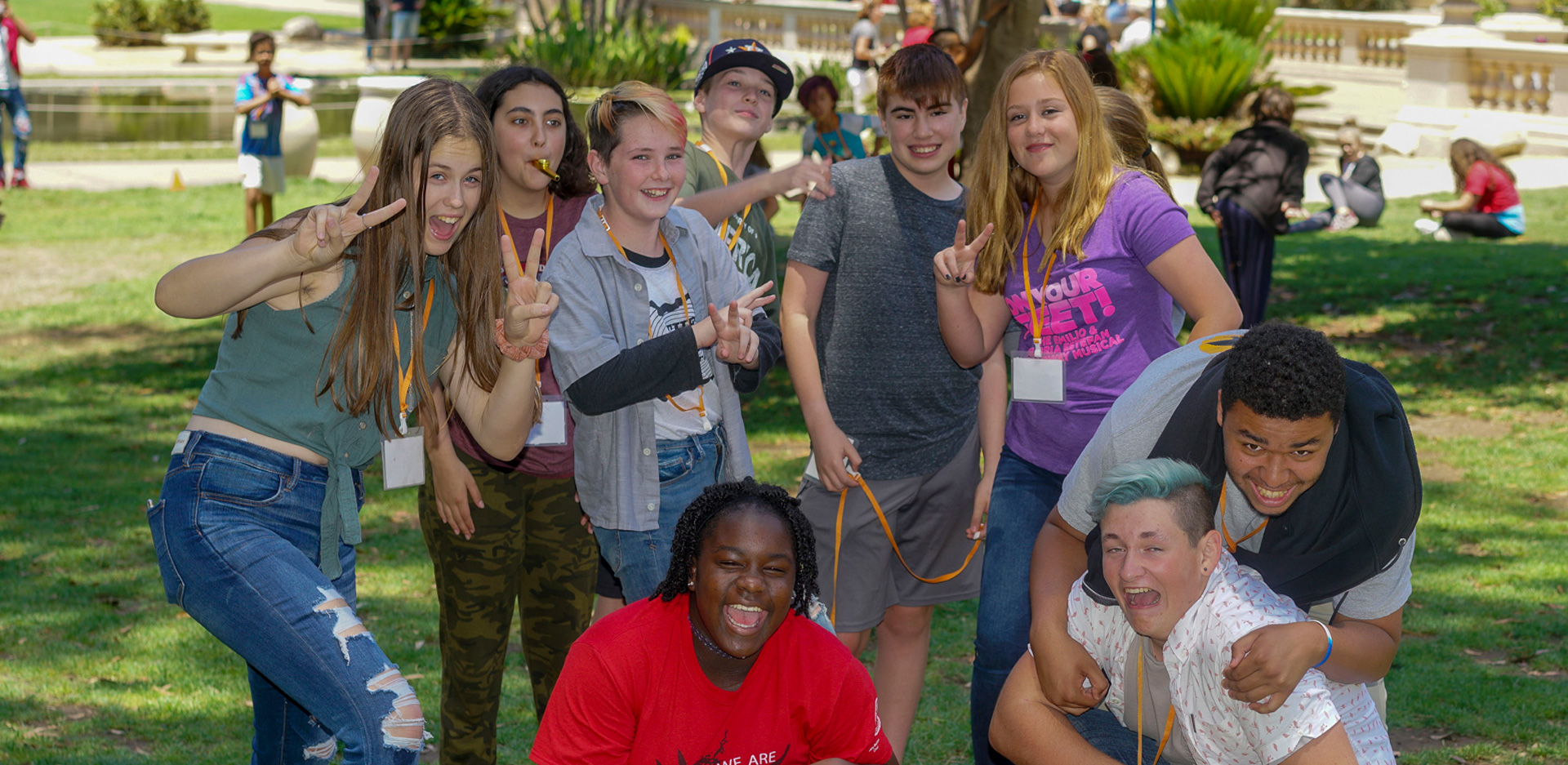 San Diego Junior Theatre provides equal employment opportunities to all employees and applicants without regard to race, color, religion, national origin, ancestry, gender, sex, gender identity or expression, age, medical condition, sexual orientation, marital status, citizenship, pregnancy, physical or mental disability, genetic information, veteran status, military status, caregiver status or any other characteristic protected by federal, state or local laws.
TEACHING ARTISTS
Junior Theatre is always looking to grow our diverse network of professional teaching artists for classes and camps in Balboa Park and outreach programs throughout San Diego County.
Please send a resume and cover letter to Desha Crownover.
Teaching Artists are required to teach students ages 3-18 in one/all of the following capacities: on-site classes and camps in Balboa Park or off-site outreach programs, on or off-site workshops. Prepares and maintains all class materials and supplies. In conjunction with the Education Director, may develop new classes and course curriculum. This is a seasonal position.
Salary: DOE
Required:
Bachelor's degree (or equivalent experience) from an accredited college or university in the performing arts, education or related field
Extensive experience and active current practice in art form(s) to be taught
Experience working with/teaching students from K-12
Voice Teachers must be able to play piano
Completed Mandated Reporter Training
Sexual Harassment Prevention Training
Desired:
Previous teaching artist experience
Curriculum development
CPR, AED & First Aid certified.
Experience working with students with special needs.

TEACHER'S AIDES
A Teaching Aide is responsible offering support and assistance to the Teaching Artists, and ensuring that each student has an enjoyable camp/class experience.
Salary: $14.50 per hour
Responsibilities Include:
Assist teaching artists and JT staff members with management of class materials during set-up & clean up
Assist Teaching Artists and JT staff members with upkeep of class and camp environments (classrooms, corridors, lunch area, restrooms, office, storage spaces, etc.)
Assist with classroom management when appropriate by re-directing off-task students
Provide one-on-one assistance to students needing extra attention
Facilitate class activities and games by participating in all activities and assisting the Teaching Artists and individual students
Supervise students during class and camp transitions, breaks and lunch
Facilitate class and camp check-in and pick-up
Assist students with restroom breaks as necessary
Work as an inclusion aide to provide extra help and support for students with special needs
Education, Knowledge, Skills, and Abilities:
Completion of Junior Theatre Aide In Training class (if under-18) and internship or equivalent aide/assistant experience
Theatre experience or working in childcare preferred
First Aid and CPR certification preferred
Inclusion training/experience a plus
Please send a resume and cover letter to Desha Crownover.
Education Director
Schedule: Full-Time Exempt (Variable)
Position Summary: The Education Director is responsible for the operations of all education programs, supervising all Education Department staff, and promoting Junior Theatre in the community.
Key Duties and Responsibilities:
Represent and advocate for Junior Theatre in the community
Supervise education-related staff
Participate in the ongoing strategic planning process as an integral member of the senior management team
Oversee all education programming, including academic year sessions, summer and vacation camps, and outreach programs
Guide all education program development, including the education calendar, session and room schedules, curriculum development, and new opportunities
Recruit, train, and manage all teaching artists and aides
Qualifications:
Bachelor degree in Theatre, Education, or a related field is preferred but not required
Teaching experience in the arts
Experience working with children and young adults in theatre education
Expert-level computer skills including Microsoft Office Suite (Word, Excel, PowerPoint, Outlook)
Knowledge of, or ability to use or learn, Salesforce/Patron Manager CRM also required
Supervisory experience required
Nonprofit experience preferred
Exceptional interpersonal and communication skills required
Ability to work as a team player
Ability to relate to children and adults in a professional manner; ability to be dependable and personable;
Ability to work independently; prioritize, handle multiple tasks, be detailed-oriented, and meet tight deadlines
Ability to maintain confidentiality regarding internal affairs and student matters
Ability to adapt to changing work settings and conditions
Bilingual (English/Spanish) a plus
To apply, please email cover letter and resume to: [email protected] (please add "Education Director" in the subject).