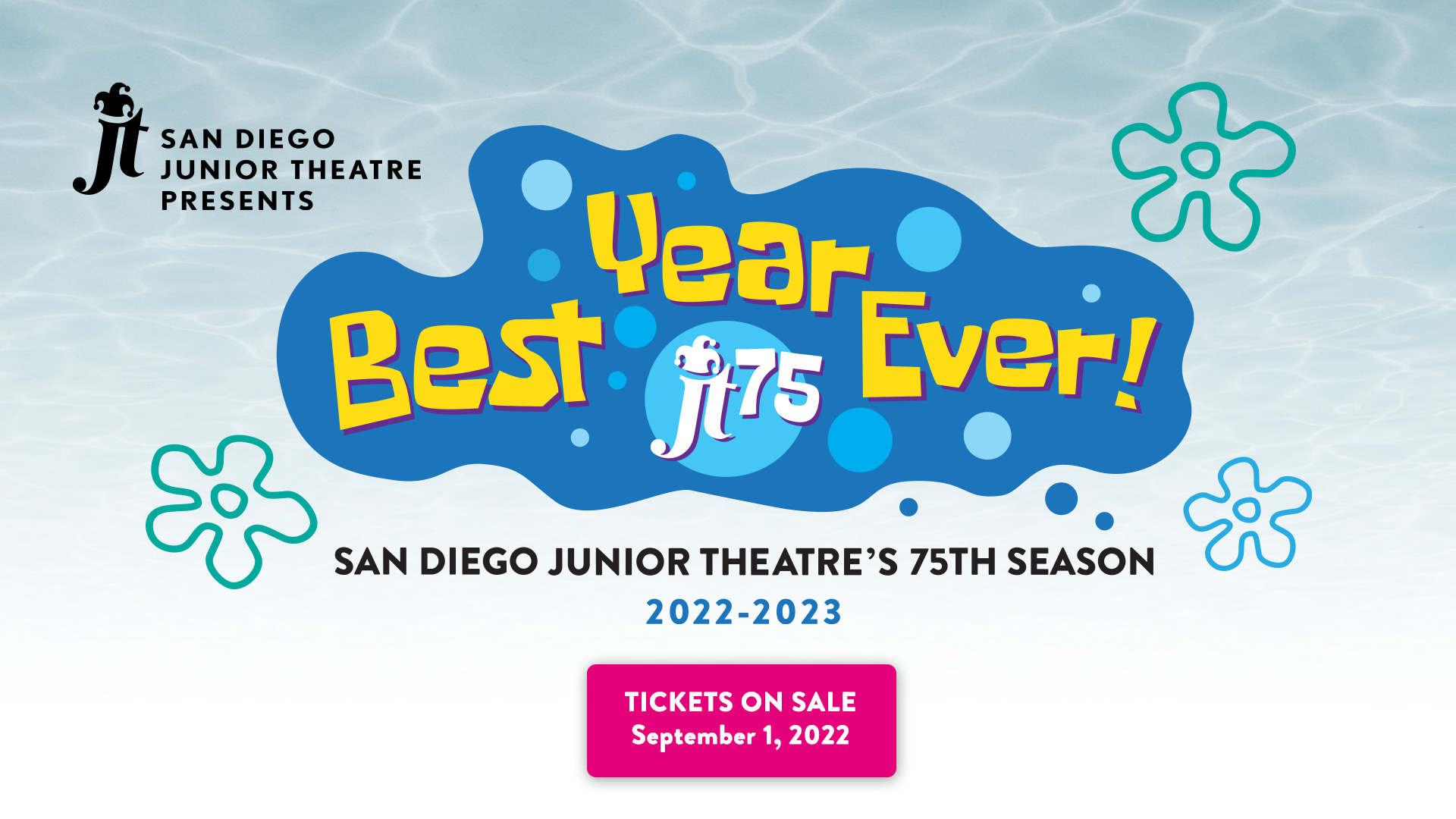 A Note from Artistic Director,
Desha Crownover…
Can you remember the best year you ever had?
How about the best day? Was it a day where everything just seemed to go right? Was it a magical day? Perhaps it was a day that started off terribly and you were able to overcome the "terrible" and turn it into amazing!
Since 1948, San Diego Junior Theatre has had many Best Years and even more Best Days. Whether it's been the joy of an opening night, the butterflies of an audition, the warmth of meeting the first friend who really "got" you, or the grit you learned when mastering a new skill, JT kids have experienced so many "bests." The same goes for our characters in our 75th Anniversary Season line-up of shows!
The SpongeBob Musical
Sponge Bob and the citizens of Bikini Bottom face certain doom and yet manage to turn their worst day into their best.
Edgar Allan Poe's Gruesome Gallery of Grotesquerie
Edgar Allan Poe teaches us that when darkness strikes our hearts, using imagination and courage to devise something creative helps combat the gloom!
How I Became A Pirate
Sometimes our best day ever means an adventure in your own backyard with your best crew of merry Pirates!
Roald Dahl's Matilda, The Musical
Bad day after bad day can challenge you to find your voice and even discover the magic that lies within you! Just ask Matilda!
Grace For President
Grace demonstrates the hard work it takes to create your best day can pave the way for others to see how. History has its eyes on you!
Rodgers + Hammerstein's Cinderella
When you are waiting for your best day to happen, how can you make today a little bit better? Cinderella teaches us that with kindness and patience and imagining the world not how it is, but how it could be, you, too can achieve your best day ever.
The joy of having a Best Ever Day or Year is that the journey never ends: your next one could be even better!
The Best Ever!
Welcome to our 75th year of making Best Years and Days Ever! Whether in the classroom, the audience, onstage or backstage, you'll learn that theatre is a whole slew of new "bests." You'll learn how to win and how to lose. You'll also learn how to connect. You'll learn what excites you and interests you. You'll learn how you fit into this world, this life! You'll learn about yourself and others who are different from you. And maybe, just maybe, you'll learn that your Best Ever is yet to come!
In celebration,
Desha
Become a Seasoned Donor and get unlimited discounted tickets!  With this program, any household that makes a designated donation of $250 or more between August 1, 2022 and July 31, 2023 will have access to $13 tickets (regular price $16-18) throughout our 75th season. There are no blackout dates or limit to the number of tickets purchased. However, tickets must be purchased by the donor household, in their name. These specially priced tickets will be available through the box office only, and must be purchased 24 hours in advance of any performance. Subject to availability. Interested patrons can call Patron Services Manager, Anthony Zelig at 619-239-8355 to process their donation and purchase tickets.
All productions are subject to change based on availability.
San Diego Junior Theatre productions are made possible in part by show ticket sales, production fees, and public contributions. Major funding is provided by the County of San Diego, the City of San Diego Commission for Arts and Culture, the City of San Diego Park and Recreation Department, and the San Diego Junior Theatre Auxiliary.