Biography
Kelly S. DiPucchio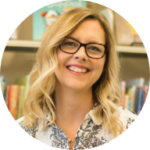 Kelly S. DiPucchio is the award-winning author of several children's books, thousands of To-Do lists, and a few recipe cards. Two of her books, Grace For President and The Sandwich Swap, were New York Times bestsellers.
Like most kids who grew up in the 1970s, Kelly had a pet goat and bought all her clothes from the Sears catalog. Like most teenagers who grew up in the 1980s, Kelly had really big glasses and feathered hair.
Today, Kelly lives with her husband and three children in southeastern Michigan, where she enjoys writing just about everything except her own bio.