Biography
Richard Rodgers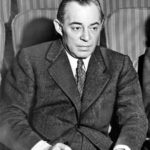 Richard Charles Rodgers (June 28, 1902 – December 30, 1979) was an American composer, known largely for his work in musical theater. With 43 Broadway musicals and over 900 songs to his credit, Rodgers was one of the most significant American composers of the 20th century, and his compositions had a significant impact on popular music.
He is best known for his songwriting partnerships with the lyricist Lorenz Hart, with whom he wrote several musicals throughout the 1920s and 1930s, including Pal Joey, A Connecticut Yankee, On Your Toes, and Babes in Arms; and with Oscar Hammerstein II, with whom he wrote musicals during the 1940s and 1950s such as Oklahoma!, Carousel, South Pacific, The King and I, Cinderella, and The Sound of Music.
His collaborations with Hammerstein, in particular, are celebrated for bringing the Broadway musical to a new maturity by telling stories that were focused around characters and drama rather than the light-hearted entertainment that the genre was known for beforehand.
Based on the true story of the Trapp Family Singers, The Sound of Music was the final collaboration between Rodgers and Hammerstein and is arguably one of the most popular musicals of all time.