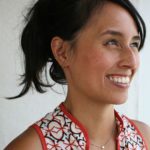 LeUyen Pham is a children's book illustrator and author. She has illustrated and written more than 120 books, including illustrations for Grace for President.
Pham's first illustrated book, Sugarcane House, and Other Stories about Mr. Fat, was written by Adrienne Moore Bond and published in 1997. In 2000, the book Can You Do This, Old Badger? was published, with illustrations by Pham and writing by Eve Bunting. The book won an Oppenheim Toy Portfolio Gold Award. In 2004, the book Twenty-One Elephants, illustrated by Pham and written by Phil Bildner, also won an Oppenheim Toy Portfolio Gold Award.
Pham's writing debut was in 2005 with her children's book Big Sister, Little Sister. The book is narrated by a younger girl who compares herself to her older sister, with their sibling affection showing more as the story progresses.
In 2020, she won a Caldecott Honor for her illustrations in the book Bear Came Along.