San Diego Junior Theatre's 67th Season

We're Creepy and we're Kooky… and (probably) altogether Ooky! Thus the launch of our 67th Season—and that's only the beginning! We'll take you on a theatrical ride to meet a girl who fancies herself, to get to know a brother and sister who befriend dinosaurs, and to join four siblings as they discover a magic land through a wardrobe! Leap tall buildings with your favorite super hero, take a visit with the unlikeliest of friends in a spider and a small pig, and then shake it up with your favorite Elvis Presley hits!
» Season Brochure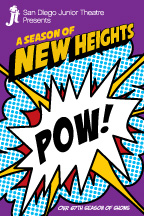 Where else can such thrilling tales all explode in one season? San Diego Junior Theatre, of course! We are never ones to rest on our laurels. We love to discover new journeys together and to create innovative ways to tell old stories—and always leave you wanting to come back for more!
As the new Artistic Director of this wonderful organization, nothing excites me more than watching our young performers apply the necessary tools and techniques to the art of theatre, while learning the deeper and more important lessons of discipline, respect, and bonds of friendship that they will carry with them throughout the rest of their lives.
What a glorious experience for me to be a part of this rich and diverse family. Yes, we are a family (Addams and otherwise) and like a family, all are welcome!
Rayme Sciaroni
Artisitic Director,
San Diego Junior Theatre
Our 2014/2015 Season
---
Past Shows