Flight of the Lawnchair Man
February 6–15, 2015
Jerry Gorman is a regular guy from Passaic, New Jersey who just wants to fly. The neighbors think he's nutty, but his girlfriend Gracie believes in him. Together, Jerry and Gracie try flight school, the "Up With People Space Program," and anything else they can think of to help Jerry soar into the stratosphere. But they are stymied by bureaucracy, Jerry's disapproving mother, and deep, dark family secrets.
Jerry soars to 16,000 feet with nothing but a lawnchair and 400 helium balloons. In the end, Jerry has a decision to make: come back down to earth, or fly forever where the air is free. Loosely based on a true story, Flight of the Lawnchair Man is a musical that reminds us that dreams can come true if you believe in yourself.
A JT Premiere! Recommended for ages 12 and older.
» Download Poster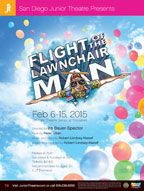 Cast
Jerry Gorman - Spencer Lynn
Gracie - Colette Huber
Big Jack Preston - Kellen Gaughan
Blaire - Jazley Genovese
Mother Gorman - Madeleine Williams
Charles Lindbergh - Trystan Colburn
Amelia Earhart - Eevie Perez
Leonardo da Vinci - Luke Ruggiero
French Boy - Maia Larom
Mr. Frankel - Avery Solsbak
FAA Agent - Cecilia Harchegani
TV Reporter - Shayne Cole
NASA Official - Mark Barahura
Crew
Stage Manager - Emily Morrison
Asst Stage Manager - Jake Goldfarb
Stagehands - Artemis Calderon, Imahni King-Murillo, Sofia Bourche, Julia Starkey, Mary Epperson, Sophia Valenti, Gianna Merghart, Pierre Cozic, Giovanni Cozic, CJ Rabine, Bella Rabine, Olivia D'Angelo
---
Flight of the Lawnchair Man is presented through special arrangement with, and all authorized performance materials supplied by, Theatrical Rights Worldwide (TRW), 1359 Broadway, Suite 914, New York, NY. 10018. Phone 866-378-9758. www.theatricalrights.com. Production sponsored in part by the City of San Diego Commission for Arts and Culture, the City of San Diego Park and Recreation Department, and the County of San Diego.