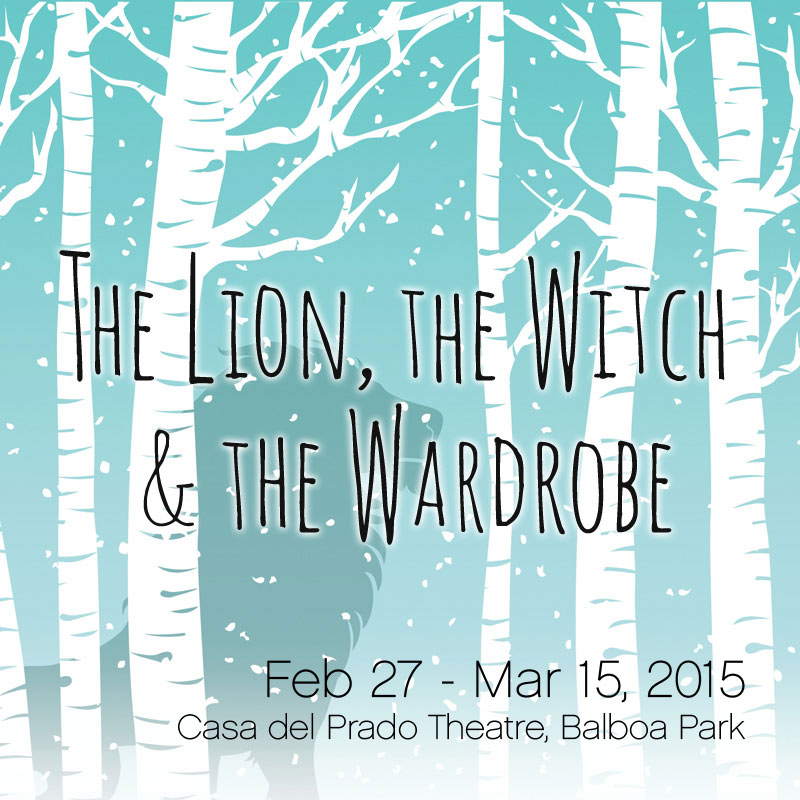 February 27, 2015–March 15, 2015
---
The Lion, the Witch, and the Wardrobe
When the four Pevensie children stumble upon an old wardrobe, little do they know they will discover the magical world of Narnia. Adventures abound in this mystical place, where the animals talk and where a wise and kindly lion named Aslan reigns over all.
The Lion, the Witch, and the Wardrobe is an action-packed play based on the works of C.S. Lewis depicts fight between Aslan, the great ruler of Narnia, and the White Witch. Also featured are the supporting characters from the original story: the unicorn, the centaur and other forest animals, along with Father Christmas, Mr. and Mrs. Beaver and Tumnus the Faun.
Join the adventure as four brave kids, one great lion, and an entire kingdom fight for what is right.
Recommended for All ages. ASL-interpreted performance 2pm Saturday, March 14, 2015.
Cast
Aslan - Saedy Mccoy
White Witch - Emily Morrison
Peter - CJ Rabine
Susan - Nicole Gustafson
Edmund - Brandon Saldivar
Lucy - Kahlia Canada
Tumnus - Cecilia Harchigani
Mr Beaver - Nathan Cooper
Mrs Beaver - Jaimie Cooper
Centaur - Julia Starkey
Unicorn - Shelby Myrman
Dwarf - Pierre Cozic
Fenris Ulf - Imahni King-Murillo
Father Christmas - Jordan Anichini
Elf - Summer Kocher
White Stag - Shayne Cole
Ensemble - Alexandra Adsit, Jordan Anichini, Brett Atchison, Helen Barrios, Veronica Berg, Emilee Bond, Sofia Bourche, Cameron Britt, Amanda Cooper, Sydney Crandall, Graziela Damian, Darsie Davis, Mary Epperson, Lucas Gonzalez, Rile Grant, Kelly Ketner, Canaan King, Emily Nicolescu, Meghan Palitz, Jaxon Poland, Anya Price, Jack Roemer, Connor Sortwell, Cole Vernon, Angelie Walker, Mackenzie Wrape, Jordyn Youngblood
Crew
Stage Manager - Mark Barahura
Asst Stage Manager - Michele Brice
Lights - Emily Ince
Sound - Ashton Bradshaw
Stagecrew- Guadalupe Birkbeck, Giovanni Cozic, Genna Foster, Nicholas Hatch, Sara Parker, Ayla Polk, Sabrina Sy, Nicole Wood
Costumes/Makeup - Julia Carrasco, Maria Castiglione, Sophia Castiglione, Alexandria Hrossowyc, Erin Longerbone, Rebecca Morrison
Box Office - Rachael Lopez, Maddy Ringer
House Manager - Zoe Nilsen
Ushers - Jaylee Adams, Annabelle Foster, Francesca D'Amico, Cady Johnson, Sophie Kelvin, Zander Kobold, Olivia Marquez, George Palmer, Esteban Santos, Zoe Santos, Moses Strasser-Biess
The Lion, the Witch, and the Wardrobe is presented through special arrangement with Dramatic Publishing, 311 Washington St, Woodstock, Illinois 60098. Phone 815-338-7170. Fax 815-338-8981. www.dramaticpublishing.com. Production sponsored in part by the City of San Diego Commission for Arts and Culture, the City of San Diego Park and Recreation Department, and the County of San Diego.