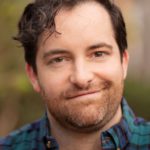 Blake McCarty is a multidisciplinary artist whose original work includes large-scale immersive projects, new musicals, devised theatre and documentary plays. He is the founder and Director of Artistic Development for Blindspot Collective, the San Diego Union-Tribune's 2020 Theater of the Year, where he has directed award-winning productions that include Hall Pass, Untold, The Magic in this Soul, Danny's Story and when the bubble bursts. His work has been developed or commissioned by La Jolla Playhouse, California Center for the Arts, Cygnet Theatre, New Village Arts, New York Theatre Barn and New York University. In addition to his work as a director, Blake is a two-time recipient of Outstanding Projection Design from the San Diego Theatre Critics Circle. As an educator, Blake has designed educational programming for San Diego Junior Theatre, The New Victory Theater, La Jolla Playhouse, The Old Globe, New Museum, Guggenheim Museum, Tribeca Film Festival and countless schools. Upcoming: designing projections for The Great Khan at San Diego Rep and Water by the Spoonful at Cygnet; producing Black Seance with Richard Allen and Nathan Nonhof; and developing the new musical Hooverville with Ian Brandon. Blake is an alumnus of Tisch School of the Arts, and the Steinhardt School of Culture, Education, and Human Development, both at New York University.
Directed by Blake McCarty
Book by Norton Juster and Sheldon Harnick
Music by Arnold Black. Lyrics by Shedon Harnick
Based on the book by Norton Juster
Norton Juster's beloved children's book is adapted for the stage and performed by Junior Theatre's Advanced Acting Camp, Jr.