Maricela de la Luz Lights the World
November 14–23, 2014
A few days before Christmas, as Maricela de la Luz and her brother Riccardo come out of a San Diego mall, the world suddenly changes. It starts off slowly. First it's the unexplainable snowfall. Then it's all the adults disappearing. Then it's the polar bear that appears out of nowhere, followed by the penguins. On this magical and unusual journey the children learn the meaning of heroism and commitment.
A JT Premiere! Suitable for all ages.
» Download Poster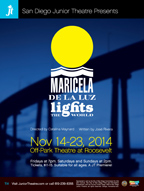 Cast
Maricela - Sofia Islas
Ricardo - Tony Cabauatan
Xblanque/Ensemble - Zoe Santos
Polar Bear/Ensemble - Marlena Wilson
Ofelia/Ensemble - Cecilia Harchegani
Cyclops/Ensemble - Teia Shannon Wright
Jason/Ensemble - Esteban Santos
Orpheus/Ensemble - Jaxon Poland
Hercules/Ensemble - Alexandra Adsit
Mysterious Fog/Adriana/Ensemble - Bella Basurto
Hunahpu - Marlena Wilson And Esteban Santos
Loki/Ensemble - Lauren Basurto
Adriano(Smiling Face)/Ensemble - Angelie Walker
---
Presented through special arrangement with Dramatic Publishing, Woodstock, Illinois. Production sponsored in part by the City of San Diego Commission for Arts and Culture, the City of San Diego Park and Recreation Department, and the County of San Diego.