San Diego Junior Theatre's 64th Season of Shows

One of the perks of producing quality children's theatre for 64 years is that you build a reputation for excellence and innovation.
» Download Brochure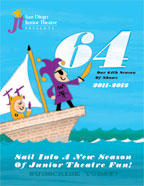 San Diego Junior Theatre is certainly no exception—as we continue to provide inspired theatrical productions for and by youth. It's an exciting endeavor to break new ground and grow, confident in the excellence of tradition that has already been built.
This season, we combine tradition with innovation in each of our productions. We open with the premiere of How I Became a Pirate, based on the swashbuckling book. Then we'll set sail into a sea of tradition: when the hit musical Annie opened on Broadway in 1977, JT was already 29 years old, and we're pleased to bring the feisty red-head back to our stage!
In December, travel with us to an out-of-this-world premiere in Santa Claus vs. the Martians, a new, kitschy, holiday favorite based on the cult film.
In January, we'll debut Rippledink's Repertory, a cutting-edge experience in children's theatre: three shows over three weekends. The theme is 'Knowledge is Power,' highlighting reading, writing, and rhythm on our stage. The Complete History of America (abridged), Harold and the Purple Crayon, and Schoolhouse Rock, Live! It's the only program that provides a repertory experience for students under 18! February brings us another literary premiere in The Musical Adventures of Flat Stanley.
In April, we're excited to announce our partnership with Disney in producing a pilot production of Peter Pan, based on their beloved film. Rounding out the end of our season is yet another JT premiere, the Olivier Award-winning HONK! a musical retelling of 'The Ugly Duckling,' and Footloose, the fast-paced homage to both the old and the new.
We invite you to sail, fly, and dance with us, as JT continues to lead the way in quality children's theatre!
Desha Crownover
Artistic Director,
San Diego Junior Theatre
Our 2011/2012 Season
---
Past Shows