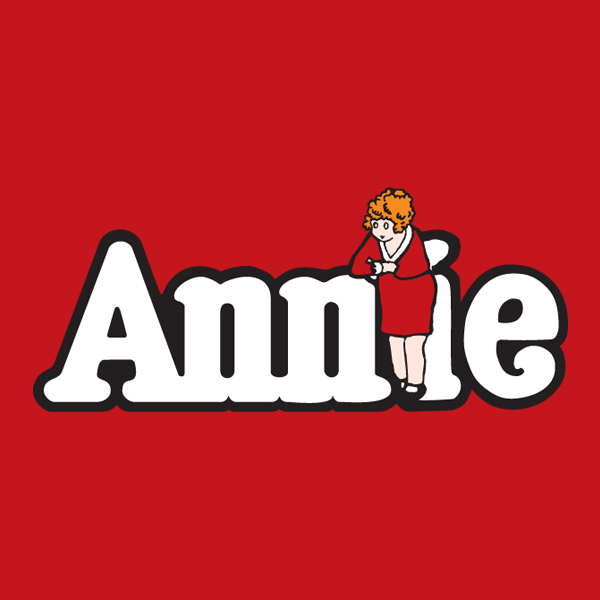 October 27, 2011–November 13, 2011
---
Annie
SPECIAL PREVIEW NIGHT! 7pm Thu, Oct 27, 2011
» Download Poster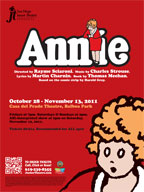 In celebration of the upcoming Broadway revival, she's back! Annie is a spunky Depression-era orphan determined to find her the parents, who abandoned her years ago on the doorstep of a New York City Orphanage run by the cruel, embittered Miss Hannigan. In adventure after fun-filled adventure, Annie foils Miss Hannigan's evil machinations, befriends President Franklin Roosevelt, and finds a new home and family with billionaire Oliver Warbucks.
Recommended for all ages. ASL-Interpreted performance, 2pm Saturday, November 12, 2011.
Cast
Annie - Zion Dyson
Oliver Warbucks - Fred Strack
Grace - Paige Pendarvis
Miss Hannigan - Lauren Green
Rooster - Jake Fineman
Lily - Anna Strickland
Bert Healy - Brandon Banda
FDR - Chris Huber
Mr.Bundles/Drake - Shane Jost
Mrs. Greer - Gina Barba
Mrs. Pugh - Katra Laidlaw
Duffy - Yael Eden
July - Madeline Edwards
Kate - Avalon Robbins
Molly - Kiki Pyle
Pepper - Sydney Rose Horowitz
Tessie - Yuri Kitagawa
Wacky - Pierre Cozic
Star-to-be - Ruby Ross
Boylan Sisters - Alexa Bitsko, Ruby Ross, Brooke Collins
Orphans - Jordan Anichini, Katelyn Katz, Ava Bunn, Amanda Cooper, Elysee Daniels, Abby Despain, Camille Fundingsland, Merinda Gillette, Brooke Henderson, Hourie Klijian, Tess Maretz, Jenny Mota, Rana Willink
Ensemble - Fiona Beyerle, Blake Banda, Alexa Cohen, Shayne Cole, Pierre Cozic, Jenna Dern, Elise Ivy Hall, Emily Ince, Julie Inserra, Carmen Quinones, Hanna Samson, Carly Shaffer, Annaleise Wilbur, Juliette Young, Brandon Banda, Alexa Bitsko, Ruby Ross, Brooke Collins, Chris Huber, Teddy Bohler, Shane Jost, Gina Barba, Katra Laidlaw, Shelby Myrman, Lizzie Hall
Crew
Stage Manager - Hannah Corder
Assistant Stage Manager - Brie Edwards
Spots - Megan Decker
Stagecrew - Angela Erickson, Lily King-Smithson, Lynda Morris, Isabelle Pickering, Gabriella Villafranca
Costumes and Makeup - Mikayla Brinker, Maggie Brown, Noelle Brown, Michelle Pace, Kelly Scheurer, Dariane Wood, Faith Young, Roberto Quinones
House manager - Kailey Berry
Ushers - Gage Bulette, Jake Bulette, Olivia Dangelo, Brenna Fineman, Violet Ross, Alexandria Rudolfi, Avalon Smith, Angelie Walker
Box Office - Sophie Eakes
Past Performances
| | |
| --- | --- |
| | |
| | |
| | |
| | |
| School Day Show | |
| School Day Show | |
| | |
| | |
| | |
| School Day Show | |
| School Day Show | |
| | |
| | |
| | |
Music by Charles Strouse. Lyrics by Martin Charnin. Book by Thomas Meehan. Based on Harold Gray's comic strip Little Orphan Annie, by permission of Tribune Media Services, Inc. Original Broadway production directed by Martin Charnin. Presented on Broadway by Mike Nichols. Produced by Irwin Meyer, Stephen R. Friedman, Lewis Allen, Alvin Nederlander Associates Inc., The John F. Kennedy Center for the Performing Arts, and Icarus Productions. Originally produced by the Goodspeed Opera House, Michael P. Price, Executive Director. Annie is presented through special arrangement with Music Theatre International (MTI). All authorized performance materials supplied by MTI, 421 West 54th Street, New York, NY 10019. Phone: 212-541-4684. Fax: 212-397-4684. www.MTISHows.com. Production sponsored in part by the City of San Diego Commission for Arts and Culture, the City of San Diego Park and Recreation Department, and the County of San Diego.