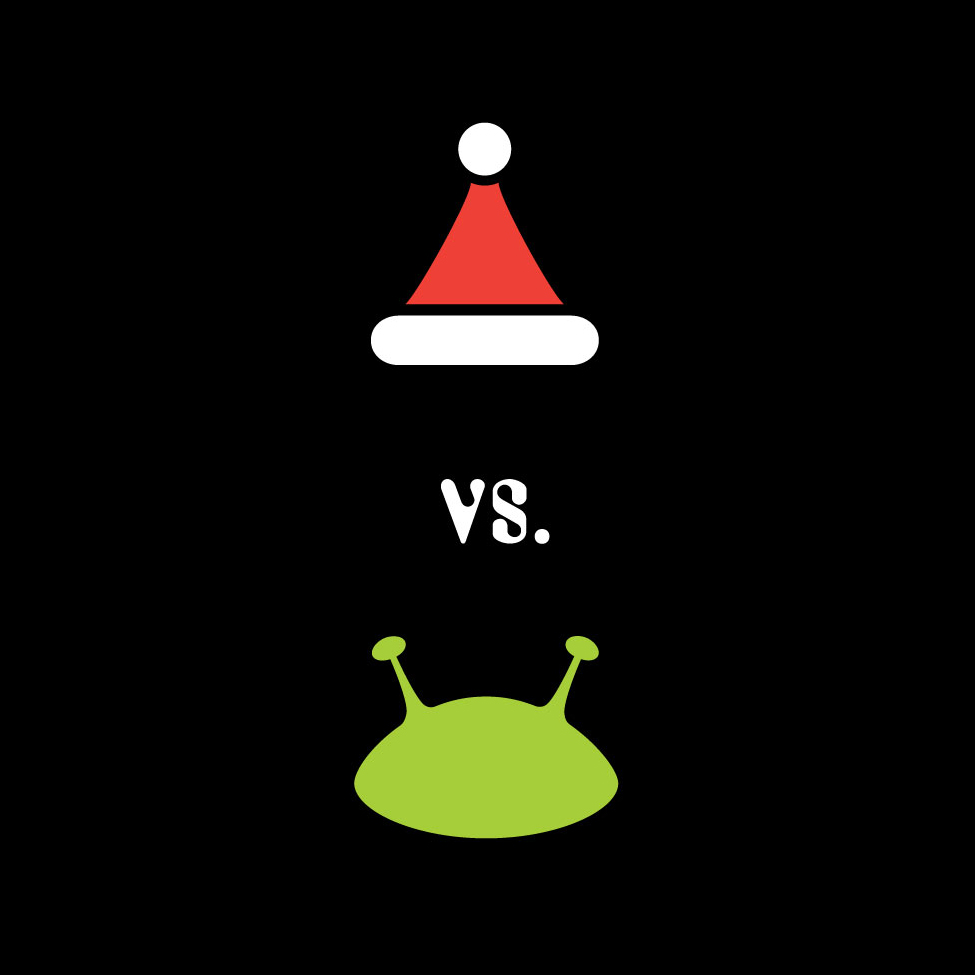 December 2–18, 2011
Directed by Katie Rodda
Adapted for the Stage by Andi Allen
Based on the motion picture Santa Claus Conquers the Martians
Original screenplay by Glenville Mareth
Story by Paul L. Jacobson
---
Santa Claus vs. the Martians
"It's sillier than a series of boxes inside boxes where the smallest one is filled with outer-space killer-clowns."

— TheatreJones.com
Santa Claus kidnapped by Martians! Will the children on Earth have no toys on Christmas Day? This kitschy, tongue-in-cheek comedy is based on the cult-classic, B-movie Santa Claus Conquers the Martians.
A West Coast and JT Premiere! Recommended for ages 8 and older.
Cast and Crew
Andi Henderson - Katie Armstrong
Rigna - Cecilia Harchegani
Stobo/Polar Bear - Julia Starkey
Santa Claus - Fenton Paré
Mrs Claus/Chochum/Rudolph - Sophie Eakes
Hargo/Frosty - Catalina Furra
Winky/Prof von Green/Charlie Brown - Julia Ramsey
Kimar - Kaari McBride
Dropo - Nick Hatch
Lady Momar - Dariane Wood
Shim/Torg/Grinch - Maia Larom
Bomar - Gabe Starkey
Girmar - Isabel Rojas
Voldar - Katie Wegmann
Billy - Jacob McKanry
Betty - Emery Campen
Crew -Jenna Dern, Genevieve Ciavarelli, Pierre Cozic, Philip Kovelman-Ottilie, Katra Laidlaw, Noelle Brown, Lindsay Wilson
Video
Trailer from the original motion picture, Santa Claus Conquers the Martians
Adapted for the Stage by Andi Allen. Based on the motion picture Santa Claus Conquers the Martians, © 1964 by Jalor Productions, distributed by Embassy Pictures Corporation. Original screenplay by Glenville Mareth, story by Paul L. Jacobson. Santa Claus vs. the Martians is produced through special arrangement with Level Ground Arts, Dallas-Fort Worth, Texas. Production sponsored in part by the La Jolla YMCA, the City of San Diego Commission for Arts and Culture, the City of San Diego Park and Recreation Department, and the County of San Diego.