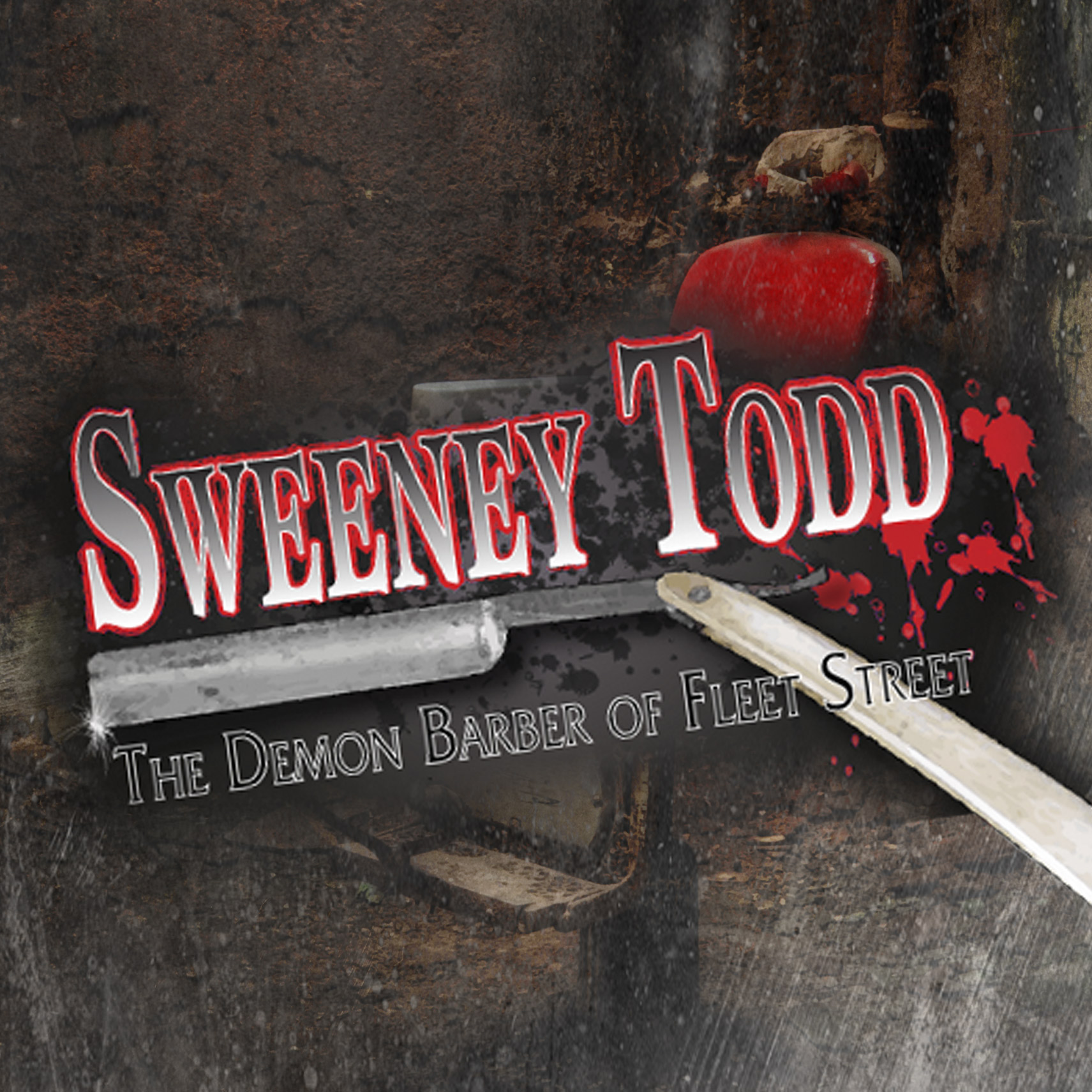 July 29, 2016–August 14, 2016
---
Sweeney Todd
A dark and witty tale of London, love, murder, and revenge.
Saturday night July 30, 2016 is STEAMPUNK NIGHT! Come dressed in your finest!



»Download Poster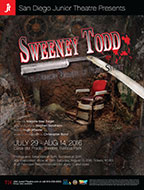 Sweeney Todd is a classic musical about love, loss and revenge. Our Steampunk take on the design aspect of the show will enhance the story telling as we are all cogs in the machine of life; victims of our actions and circumstances.
The story is all at once scarily thrilling and humorously shocking. Barber Sweeney Todd returns to London after fifteen years, seeking revenge on the judge who framed him and ruined his life. The result is a dark comedy, a sinister story and an unforgettable production, with a superb Stephen Sondheim score.
A JT Premiere! ASL-Interpreted performance, 7pm Saturday, Aug 13, 2016. Recommended for ages 13 and older.
Video
Cast
Sweeney Todd - Thomas Reasoner
Mrs. Lovett - Jazley Genovese
Anthony Hope - Garrett Weir
Johanna - Catarina Quintana
Tobias Ragg - Liam Galleher
Judge Turpin - Jacob Rodebaugh
The Beadle - Isabelle Pickering
Beggar Woman - Juliette Young
Adolfo Pirelli - Wes Dameron
Jonas Fogg - Michaela Griffin
Ensemble - Rose Anaya, Jordan Anichini, Dani Balmat, Pierre Cozic, Wes Dameron, Megan Decker, Ryan Fagan, Jake Goldfarb, Michaela Griffin, Izzie Haberman, Emily Ince, Imahni King-Murillo, Anna Machuca, Ruby O'Brien, Marlee Phillips-Koury, Saedy McCoy, CJ Rabine, Le'Andre Richmond, Cierra Riddle, Madalene Ringer, Ruby Ross, Micaela Ruiz, Luis Sherlinee, Savannah Welch, Wyatt Yeomans, Tana Zapf
Crew
Stage Manager - John Takiff
Assistant Stage Manager - Fiona Beyerle
Lights - Gabriel Smith
Spots - Brett Atchison
Sound - Sophia Castiglione, Cameron Britt
Stagecrew - Anna Ravine, Maria Castiglione, Jacquelyn Voegele, Genna Foster
Costumes/Makeup - Julia Shirley, Grace Takiff, Alexandra Adsit, Audrey Brewster, Elizabeth Brewster
Box Office - Chase Anichini, Gianna Merghart
Ushers - Katy Dawson, Briar Bond, Emilee Bond, Annabelle Foster
Music and lyrics By Stephen Sondheim. Book by Hugh Wheeler. Based on an adaptation by Christopher Bond. Originally directed on Broadway by Harold Prince. Orchestrations by Jonathan Tunick. Originally produced on Broadway by Richard Barr, Charles Woodward, Robert Fryer, Mary Lea Johnson, Martin Richards in Association with Dean and Judy Manos. Sweeney Todd, the Demon Barber of Fleet Street is presented through special arrangement with Music Theatre International (MTI). All authorized performance materials are also supplied by MTI. 421 West 54th Street, New York, NY 10019 Phone: 212-541-4684 Fax: 212-397-4684 www.MTIShows.com. Production sponsored in part by the City of San Diego Commission for Arts and Culture, the City of San Diego Park and Recreation Department, and the County of San Diego.