The Early Years: Children's Theater 1946
The second season for the Children's Theater program, organized by the City of San Diego Recreation Department.
Just as in the previous year, the Children's Theater program was again directed by Lois De Lannoy and Beth Masterson, with assistance from members of the Footlights Theater group. De Lannoy and Masterson taught the drama classes, with Frank Benham teaching dance. John Ward was the musical director and Ralph McKay was the business manager. Ward wrote the original score and McKay the book for the season's Sleeping Beauty.
Our 1945/1946 Season
---
Past Shows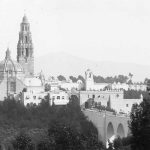 The Laundry Mark
Written by Beatrice Humiston McNeil
At the Fountain
Written by Ernest Selley
Directed by Lois De Lannoy and Beth Masterson
Music by San Diego Youth Symphony
INFO