The Early Years: Children's Theater 1947
The third season for the Children's Theater of San Diego summertime drama workshops began after the end of school, in June 1947. Workshop directors Lois De Lannoy and Beth Masterson announced auditions for 100 spots in the program for students age 11-16. On the day of the tryouts at Roosevelt Junior High School Auditorium, 115 kids showed up!
Three production classes were held, for two one-act plays to be performed by the younger students, and one longer play, The King of the Golden River, for the older students. Assisting De Lannoy and Masterson in the Children's Theater program were members the Footlights Theater group.

---
Past Shows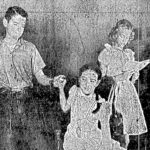 Ten Percent Tommy
Written by Joseph Carlton
Anne Gets a Break
Written by J.C. McMullen
Directed by Lois De Lannoy and Beth Masterson
Assisted by Footlights Theater members
INFO