A Backstage Glimpse of Youth Arts
By Deborah Sullivan Brennan
San Diego Union-Tribune, November 15, 2015
Behind the scenes at Casa del Prado Theatre in Balboa Park Sunday, actress Maddie Williams, clad in a pink gown and plastic crown, led a group of children and parents through theatrical warm-up exercises.
In the building's green room – a sort of common area for performers – Williams challenged the visitors to repeat tongue twisters and join in a wacky dance.
"This gets you really excited before a performance," said Williams, 18.
The presentations sought to introduce families to performing arts programs that have operated in the park for up to 70 years, and to connect four related organizations – the San Diego Civic Youth Ballet, San Diego Civic Dance Arts, San Diego Junior Theatre and San Diego Youth Symphony.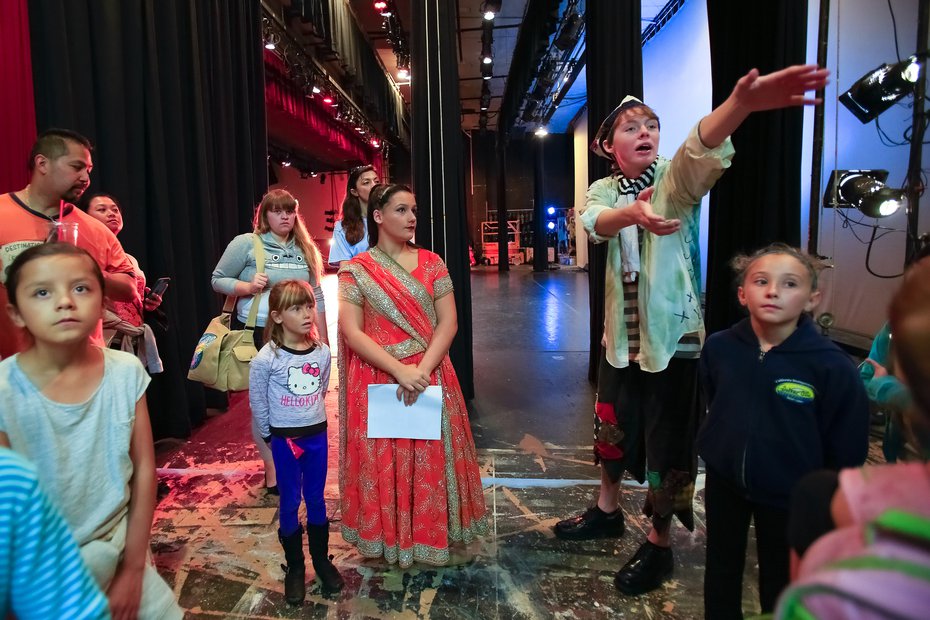 Hunter Katz leads a group taking part in the Youth in Arts program at Balboa Park through a back stage tour of the Casa del Prado Theatre in Balboa Park. Courtesy photo, Nelvin C. Cepeda / San Diego Union-Tribune.
The two-day event attracted about 600 visitors on Saturday, and officials said they expected similar or better turnout Sunday.
Organizers hoped giving kids a stint in the spotlight would inspire new students to join the programs, which together serve more than 3,600 children and teens.
Prospective students could tour the backstage areas of the theater, attend workshops on theater, music and dance, and then present what they learned on the Casa Del Prado stage alongside advanced students.
Through the workshops, potential ballerinas took the stage, flanked by senior ballet students in navy tutus. Prospective musicians got to check out string instruments.
Actress Lauren Basurto, 16, of San Diego, sporting the auburn locks and sparkly turquoise tail of the "Little Mermaid" character Ariel, explained how theatrical casts handle costume changes, switching out wardrobes in as little as 15 seconds during performances.
"One of the biggest life lessons I've learned in San Diego Junior Theatre is how to be organized and responsible, because I can't tell you how many times I've seen a girl grab two left shoes," Basurto said.
Natasha Partnoy, who played the title role in the recent production of Mary Poppins, said the demanding experience of boosted her confidence.
"I didn't have a chance to question my talents or ability," said Partnoy, 16, of San Diego. "I had to rise to the occasion because a lot of people were counting on me."
Melia Facello watched that performance with her grandmother Robin Sunkees last week. She was so hooked that Sunkees brought her back Sunday to explore the theatrical program. To her delight, the 7-year-old got to sing along with the song "Supercalifragilisticexpialidocious," led by Junior Theatre education director Kim Heil.
"We were here last Sunday for Mary Poppins," Sunkees said. "The whole way home she sang the songs from the play. She just likes the theater."
Read the full article, with picture, in San Diego Union Tribune.