Mary Poppins
October 23, 2015–November 8, 2015
Directed by Rayme Sciaroni
Original Music and Lyrics by
Richard M. Sherman & Robert B. Sherman
Book by Julian Fellowes
Based on the stories of P.L. Travers
and the Walt Disney film
Mary Poppins is everyone's favorite nanny with her own brand of magic. Jane and Michael Banks, from Cherry Lane in London, are in need of a governess, and their father is insistent on a strict taskmaster. One day, Mary Poppins arrives at the front door – rather mysteriously. Although she seems far too good to be true, her presence is so engaging that eventually everyone – including Mr. Banks, becomes convinced that she is the answer to a prayer.
» Download Poster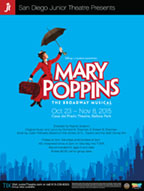 Meet a cheery chimney sweep named Bert, learn Mary's delightful way to make the medicine go down, and share with Jane and Michael as they bond with their father to fly a kite. Based on the writing of P.L. Travers and the Disney film, the adventures of Mary and the children are truly a jolly holiday, with memorable songs, joyful and heartwarming moments and Supercalifragilistic fun!
The classic story of Mary Poppins was first performed by San Diego Junior Theatre in 1950 at The Old Globe Theatre. Everyone's favorite Nanny is back in San Diego!
Recommended for ages 5 and older. ASL-Interpreted show, 2pm Sat, Nov 7, 2015.
Cast
Mary Poppins - Natasha Partnoy
Bert - Wes Dameron
George Banks - Thomas Reasoner
Winifred Banks - Isabelle Pickering
Jane Banks - Kinzie Pipkin
Michael Banks - Jaxon Poland
Mrs. Brill/Ensemble - Megan Decker
Robertson Ay/Ensemble - Jake Goldfarb
Miss Andrew/Ensemble - Saedy McCoy
Miss Lark/Ensemble - Colette Huber
Admiral Boom - Nicholas Asaro
Mrs Corry/Ensemble - Eevie Perez
Bank Chairman/Ensemble - Nathan Cooper
Von Hussler/Ensemble - Jacob Rodebaugh
Northbrook/Ensemble - Le'Andre Richmond
Bird Woman - Molly Nilsen
Neleus/Ensemble - Imahni King-Murillo
Park Keeper/Ensemble - CJ Rabine
Policeman/Ensemble - Pierre Cozic
Katie Nana/Ensemble - Ceinna Wolters
Fannie/Ensemble - Fiona Beyerle
Annie/Ensemble - Dani Balmat
Ensemble - Gavin Hamby, Annabelle Foster, Erin Longerbone, Rosa Brooks-Kamper, Marlee Phillips-Koury, Chase Anichini, Pita Birkbeck, Anya Price, Alexandra Adsit, Angelie Walker, Katy Dawson, Olivia Dangelo, Audie O'Neal, Tali Peled, Emma Ragen, Thais Santana, Samuel Hendricks, Liana Robin, Lucas Gonzales, Paulina Zepeda, Nicole Wood, Natalie Tommasino, Riley Cox, Eileen Parks, Viviana Peji, Molly Buhaenko, Meghan Palitz, Cierra Riddle, Gabriel Smith, Nicole Warkentien, Rose Anaya
Crew
Stage Manager - Penny Cohen
Assistant Stage Manager - Becca Morrison
Lights - Teia Shannon Wright
Sound - Gregory Martin
Spots - Helen Barrios
Stagecrew - Brett Atchison, Shai Mashal, Elizabeth Wheeler, Natalie Grant, Sophia Valenti, Connor Bradshaw, Genna Foster, Malena Wilson
Costume/Makeup- Gianna Merghart, Nicolette Peji, Canaan King, Summer Kocher
Box Office - Cameron Britt
Ushers - Sophie Kelvin, Megan Brown, Shannon Wood, Grace Davis, Zachary Merghart, Jade Lewis, Sydney Kroonen
---
Past Performances
| | |
| --- | --- |
| | |
| | |
| | |
| School Day Show | |
| School Day Show | |
| | |
| | |
| | |
| School Day Show | |
| School Day Show | |
| | |
| | |
| | |
Original music and lyrics by Richard M. Sherman and Robert B. Sherman. Book by Julian Fellowes. New songs and additional music by George Stiles and Anthony Drewe. Co-created by Cameron Mackintosh. Original produced in London and on Broadway by Cameron Mackintosh and Thomas Schumacher. Richard Eyre, director. Matthew Bourne, co-direction and choreography. Stephen Mear, co-choreographer. Howard Harrison, lighting design. Bob Crowley, scenic and costume design. Disney and Cameron Mackintosh's Mary Poppins, a musical based on the stories of PL Travers and the Walt Disney film, is presented through special arrangement with Music Theatre International (MTI). All authorized performance materials are also supplied by MTI. 421 West 54th Street, New York, NY 10019 Phone: 212-541-4684 Fax: 212-397-4684 www.MTIShows.com. Production sponsored in part by the City of San Diego Commission for Arts and Culture, the City of San Diego Park and Recreation Department, and the County of San Diego.