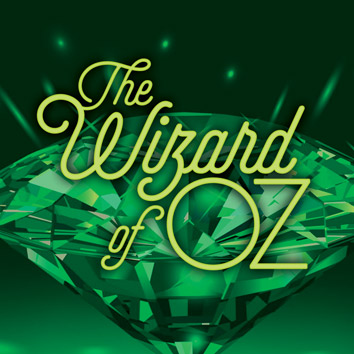 April 28, 2017–May 14, 2017
Directed & Choreographed by Carlos Mendoza
Music and Lyrics by Harold Arlen and EY Harburg
Background Music by Herbert Stothart
Adapted for the Stage by John Kane
From the Classic Motion Picture
Based on the Books by L Frank Baum
---
The Wizard of Oz
Orphan Dorothy Gale feels misunderstood by her guardians, Uncle Henry and Auntie Em. She yearns to be far away, where she thinks happiness awaits. Upon nearly losing her beloved canine companion, Toto, Dorothy is distraught and finds herself being whisked away in a tornado to the land of Oz. At first, the new locale seems promising. But Dorothy unwittingly upsets the Wicked Witch of the West and discovers her well-being requires that she return home. To do so, she must travel along a yellow brick road to the Emerald City where a powerful wizard may help her. En route, Dorothy and Toto befriend Scarecrow, Tin Man and Cowardly Lion – each who also would like help from the wizard. Protected by Glinda, the Good Witch of the North, from the evil ways of the Wicked Witch, Dorothy and her friends make their journey and pick up life lessons along the way.


Rippledink Recommends!
ASL-Interpreted performance, 2pm, Saturday, May 13, 2017.
---
Other JT Productions
The Wizard of Oz, 1948 (canceled)
The Wizard of Oz, 1952
San Diego Junior Theatre presents The Wizard of Oz by L Frank Baum, with Music and Lyrics by Harold Arlen and E. Y. Harburg. Background music by Herbert Stothart. Dance and vocal arrangements by Peter Howard. Orchestration by Larry Wilcox. Adapted by John Kane for the Royal Shakespeare Company. Based upon the classic motion picture owned by Turner Entertainment Company and distributed in all media by Warner Bros. The Wizard of Oz is presented through special arrangement with Tams-Witmark Music Library, Inc., 560 Lexington Avenue, New York, New York 10022. Production sponsored in part by the City of San Diego Commission for Arts and Culture, the City of San Diego Park and Recreation Department, and the County of San Diego.