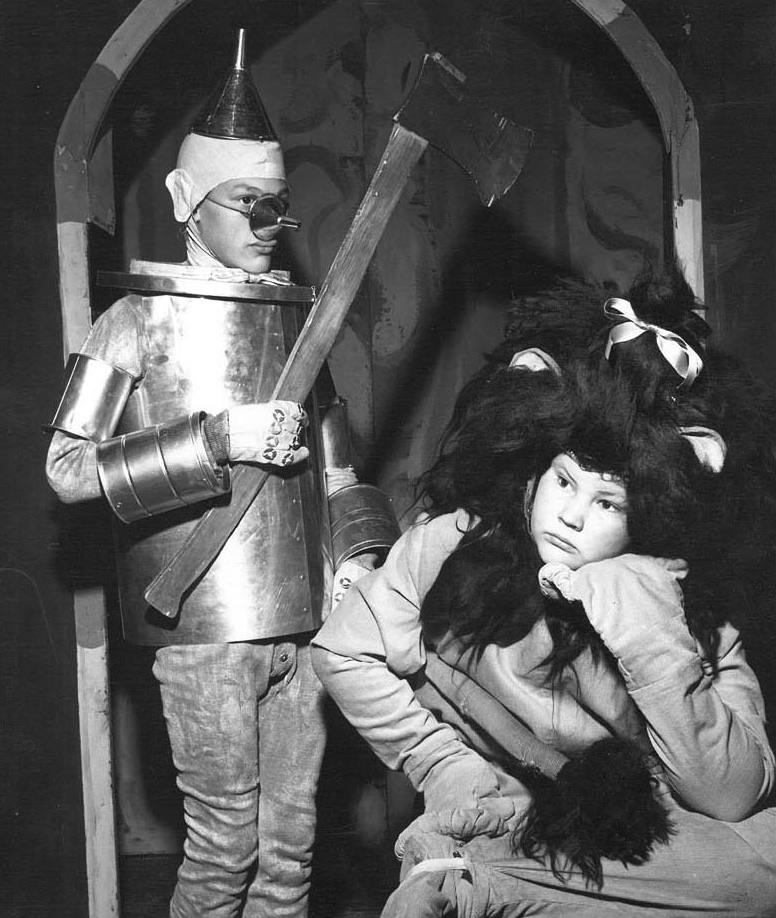 February 14–22, 1953
---
The Wizard of Oz
In the first production of this classic family favorite by the Junior Theater Wing of the San Diego Community Theater, Dorothy gets her wish of escaping her dull Kansas farm-life: She lands in a fantastic land filled with an evil witch, winged monkeys, munchkins, and talking animals! There, she must journey to see the Wizard of Oz. Her path takes her past fantastic places, and endears her to the Scarecrow, the Tin Woodman, and the Lion along the way. Each receives his dearest wish after the long journey.
This production of L. Frank Baum's beloved classic used the 1928 adaptation by Elizabeth Fuller Goodspeed, and was shown over two weekends at the Roosevelt Junior High School Auditorium, with an alternating cast to accommodate all students.
In 1948, the City of San Diego Recreation Department's first production of Wizard of Oz was canceled during rehearsals due to a polio outbreak county.
A JT Premiere! Recommended for all ages.
Cast (partial)
Dorothy - Sharon Barcom, Judy Lawrence
Toto - Russell Pierick, Mike Schwartz
The Scarecrow - Ole Kittleson, James Riley
The Tin Woodsman - Carl Lippy
The Cowardly Lion - Jon Sutherland
Guardian of the Gates - Barry Foster, Jimmy Pierick
The Wizard - Gary Riggs
Glinda the Good Witch - Darlene Geer
The Wicked Witch of the West - Pat Broach, Marilyn Mack
The Witch of the North - Suzanne Allen
Floria - Valerie Webber
Quadlings, Munchkins, and Winged Monkeys -
Crew
Sets - Henry Shelton and Mrs Melvin T. Goodwin
Makeup and Wigs - Pat Hastings.
Adapted for the stage by Elizabeth Fuller Goodspeed, from the book by L. Frank Baum. The Wizard of Oz: A Play in Three Acts, presented by special arrangement with Samuel French Inc., New York, NY. Production sponsored in part by the City of San Diego Department of Park and Recreation.