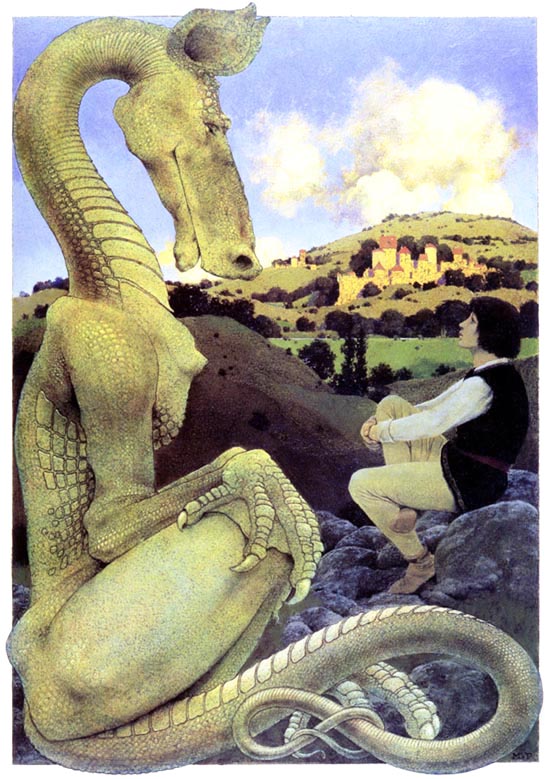 May 23–24, 1952
---
The Reluctant Dragon
This is the story of a dragon named Alexander Augustus, who — instead of burning up the countryside — is quite content to sit around the Sussex downs writing poetry and daydreaming. To avoid Saint George the Dragonkiller, the reluctant dragon hibernates in his cave, waking up in present-day 1952.
This fantasy was dramatized by Emma Gelders Sterne from Kenneth Grahame's popular story "The Reluctant Dragon," first published in 1898 and collected with others in Dream Days, illustrated by Maxfield Parrish. It gained popularity again in 1941, with Walt Disney's feature film version.
The cast featured students from senior classes as well as a large ensemble from junior classes of the Junior Theater Wing of the San Diego Community Theater.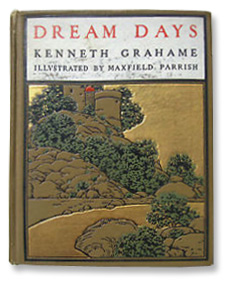 A Junior Theatre Premiere! Recommended for all ages.
Cast
Alexander Augustus - John Stine
His Mother - Judy Clutinger
Sir Bodeloe - Ed Gould
The Queen - Suzanne Harris
Saint George - Neil Anstead
Malcolm - Bruce Benson
Elaine - Kathy Murray
Malcolm's Father - Ole Kittleson
Malcolm's Mother - Margaret Bauman
Mister Partridge - Jack Clos
Villagers/Ensemble - Karen Adams, Lani Berquist, Larry Blake, Barbara Blanchard, Margaret Blanchard, Alan Boram, Pat Broach, Bonnie Browning, Sharon Case, Charles Clark, David Clayton, Ed Clos, Kathleen Cooper, Terry Corrigan, Carol Daily, Linda Lou Dobbs, Margaret Dolg, Ernest Dout, Patsy Elliott, Margery Farrar, Clarice Gillis, Nancy Glazier, Yvonne Green, Karen Hagey, Carolyn Hartman, Susan Hatalson, Sandra Hurst, Carol Ince, Judy Johnson, Lorraine Keen, Ronald Kling, Jennie Leavenworth, Donald MacClintock, Joan Maloney, Pauline Martin, Gail McClung, David McIntyre, Cecila Morris, Susan Nachant, Kathy Peavler, Sandra Pollitt, Loretta Rogers, Gail Schaffer, Janet Schaffer, Elspeth Shields, Kathleen Shields, Debbie Straus, Jon Sutherland, Donna Taylor, Suzanne Todd, Linda Vickery, Sharon Wall, Sue Walla, Janet Weissgerber, Ricky Wetzell, Karen Wilson, Joan Wolfmeier, Linda Zuckerman
Production sponsored in part by the San Diego Community Theater, the City of San Diego Park and Recreation Department, and the City of San Diego.