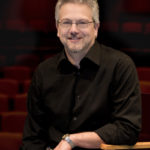 John Glore is the Associate Artistic Director of South Coast Repertory (SCR), in Orange County, Calif. He is an award-winning playwright whose work for young audiences includes his adaptation of Madeleine L'Engle's A Wrinkle in Time, which debuted at SCR in 2010 and has since moved on to numerous productions nationwide; an adaptation of Jon Scieszka and Lane Smith's The Stinky Cheese Man and Other Fairly Stupid Tales, which had its professional premiere at the Coterie Theatre and has since had dozens of productions nationwide; and his newest, an adaptation of Laura Amy Schlitz's The Night Fairy, which has been produced at SCR and Imagination Stage in Washington, D.C.
Other plays for young audiences include Wind of a Thousand Tales, Folktales Too, Rhubarb Jam, and The Day After Evermore.
His plays for adults include On the Jump (produced by SCR and Arena Stage in Washington D.C.), The Company of Heaven, Preludes and Fugues, and City Sky (a scenario for a dance piece).
With the performance trio Culture Clash he has co-authored adaptations of two plays by Aristophanes, The Birds, and Peace. In addition to the theatres already named, his work has been produced at Berkeley Rep, Actors Theatre of Louisville, The Round House Theatre, The Children's Theatre Company, First Stage, Childsplay, Oregon Children's Theatre, the Getty Villa and many others. He received a 2000 Playwrights Fellowship from the California Arts Council and has occasionally taught playwriting and related subjects at UCLA and Pomona College.