Interactive show geared towards toddlers sold out all four performances
On November 16th & 17th, San Diego Junior Theatre launched its first foray into Theatre for the Very Young (TVY), a type of interactive theatre geared specifically toward toddlers ages 3-7. Wake Up, Brother Bear!, written by Janet Stanford and Kathryn Chase Bryer, takes little ones on a journey of a glorious year of seasons. They see a waterfall melt, meet a butterfly, chase an elusive fish, and skate on an icy pond.
"Theatre for the Very Young (TVY) is a new movement in children's theatre geared to toddlers and their guardians where audience members are given tasks and props that move the plot forward. The story doesn't move forward without the help of the audience. In effect, the audience is the cast," says Brother Bear Director and Junior Theatre Executive Director, James Saba.
"What I didn't expect was what a magical theatre experience this would be to parents and guardians. Watching a toddler get lost in the world of a leaf, flower, or firefly, is one of the purest and most thrilling experiences I have witnessed at Junior Theatre."
Wake Up, Brother Bear! was performed by two teaching artists, Mr. Marc and Miss Ciarlene, with the audience members sitting in a circle around them on-stage. Junior Theatre's production featured some added elements, including an original score by Ian Brandon. Two Junior Theatre students, Lainey Bowler and Katy Dawson, played "Park Rangers," acting as facilitators to help with props and the various interactive components of the performance.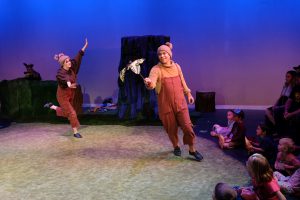 Just minutes into Saturday morning's performance, Sister Bear became sick and was unable to finish the show, despite her best efforts. Park Ranger/Facilitator Lainey Bowler immediately jumped in and improvised Sister Bear's part, while Katy Dawson made sure to cover all of the Park Rangers' material. Having attended several rehearsals and learning the general structure of the show, the students had a 30 minute window to rehearse and successfully complete the second performance of the day without missing a beat.
Lainey and Katy exemplified one of JT's core values: resiliency. Despite the setback, they jumped in and enabled the show to go on. Other core values taught at Junior Theatre include identity, responsibility, community, and empathy. These are just a few of the many lessons and values that theatre education teaches young people today.
Wake Up, Brother Bear! was Junior Theatre's first TVY show, but it will not be the last. The level of engagement and excitement from the audience (kiddos and their parents) will serve as inspiration for the next one. According to Sidney Hambsch, Mom blogger/Instagram influencer, it was "The cutest thing we've done kid-wise in San Diego." Starting this winter, Junior Theatre will offer "Toddler and Me" theatre classes through its education program. Stay tuned for more fun toddler events and classes at San Diego Junior Theatre coming very soon.