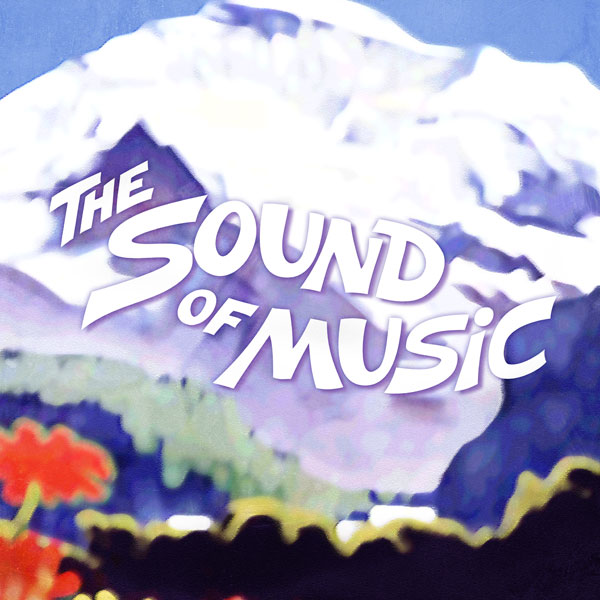 October 26, 2012–November 18, 2012
Directed by Rayme Sciaroni
Music by Richard Rodgers
Lyrics by Oscar Hammerstein II
Book by Howard Lindsay and Russell Crouse
---
The Sound of Music
When the high-spirited Maria proves unsuited for the religious life, she is sent to serve as a governess for the seven children of a widowed Naval Captain. Maria gives the children a taste of a more fulfilling, joyous life, bringing The Captain closer to his children as he grows to love Maria as well. Based on the true story of the Trapp Family Singers, The Sound of Music was the final collaboration between Rodgers and Hammerstein and is arguably one of the most popular musicals of all time.
Recommended for ages 6 and older. ASL-Interpreted performance at 2pm on Saturday, November 10, 2012.
» Download Poster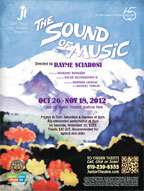 Cast
Maria Rainer - Talia Berkstein
Captain Von Trapp - Patrick Gates
Liesl - Kelly Prendergast
Friedrich - Lane Palhegyi
Louisa - Ruby Ross
Kurt - Pierre Cozic
Brigitta - Camille Fundingsland
Marta - Emma Holley
Gretl - Kathryn "Katy" Dawson
Rolf Gruber - Shane Jost
Baroness Elsa Schraeder - Elizabeth Morse
Max Detweiler - Isaac Brieske
Mother Abbess - Alexa Bitsko
Sister Berthe/Ensemble - Isabelle Pickering
Sister Margaretta/Ensemble - Kimberly Marron
Sister Sophia/Ensemble - Minji Kim
Nun #1/Ensemble - Shayne Cole
Nun #2/Ensemble - Samantha Wang
Nun #3/Ensemble - Colette Huber
Nun #4/Ensemble - Juliette Young
Franz - Christian Jaeger
Frau Schmidt - Jaime Cooper
Herr Zeller - Alex Huber
Herr Zeller's Assistant - Dane Scott
Baron Elberfeld - Nicholas Asaro
Nun's Ensemble
Dariane Wood, Lizzie Hall, Michaela Griffin, Gabriela Villafranca, Shelby Myrman, Natalie Lusitana, Magenta "Maggie" Brown, Zoe Nilsen, Erin North, Joanne Barber, Zoe Trudeau, Jaimie Cooper, Emma Kidd
Children's Ensemble
Nathan Cooper, Teia Shannon Wright, Molly Nilsen, Emery Campen, Sonia Halle, Colin Baumberger, Olivia D'Angelo, Amanda Cooper, Imahni King Murillo
Crew
Stage Manager - Hannah Corder
Asst Stage Manager - Emily Morrison
Sound - Scott Peterson
Stage Crew - Josephine Nichols, Angelie Walker, Andrew Dorvillier, Ryan Tollefson
Costumes/Makeup - Audrey Mcfarland, Rana Willink, Mar Barahura
House Manager - Shannon Barry
Ushers - Sofia Gurrola, Tali Peled, Annie Holley, Veronica McFarland, Wren Tolo, Emma Mickel, Jordan Mickel
Music by Richard Rodgers. Lyrics by Oscar Hammerstein II. Book by Howard Lindsay and Russell Crouse. Suggested by The Trapp Family Singers by Maria Augusta Trapp. Presented by special arrangement with R&H Theatricals, New York, NY. www.rnh.com. Production sponsored in part by the City of San Diego Commission for Arts and Culture, the City of San Diego Park and Recreation Department, and the County of San Diego.