The Music Man
July 19, 1991–August 4, 1991
Directed by Patrick Nollet
Book by Meredith Willson
Music and Lyrics by Meredith Willson
Based on a Story by Meredith Willson and Franklin Lacey
» Download Poster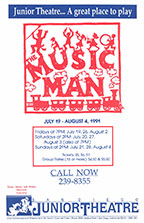 The trouble in 1912 River City, Iowa begins with con artist and salesman "Professor" Harold Hill, who appears in town to warn the citizens that the new pool table will corrupt their youth. His scheme is to organize, and profit from, a Boy's Band with instruments and uniforms, despite his lack of musical experience.
Professor Hill's biggest skeptic in the close-knit community is Marian Paroo, the librarian and piano teacher. Despite her suspicions, and the Professor's moneymaking motives, romance may be in the air, and even Harold Hill may be able to change his self-serving ways.
Step back in time and enjoy Meredith Willson's ageless TONY® Award winning musical comedy - from the opening train scene to the finale of "Seventy-Six Trombones."
Cast (partial)
Professor Harold Hill - Peter Fulton
Marian - Kendra Kohrt
---
Book by Meredith Willson. Music and lyrics by Meredith Willson. Based on a story by Meredith Willson and Franklin Lacey. Presented through special arrangement with Music Theatre International (MTI). All authorized performance materials are also supplied by MTI. 421 West 54th Street, New York, NY 10019 Phone: 212-541-4684 Fax: 212-397-4684 www.MTIShows.com. Production sponsored in part by the Civic Conservatory for Theatre Arts for Youth, the City of San Diego Park and Recreation Department, and the County of San Diego.