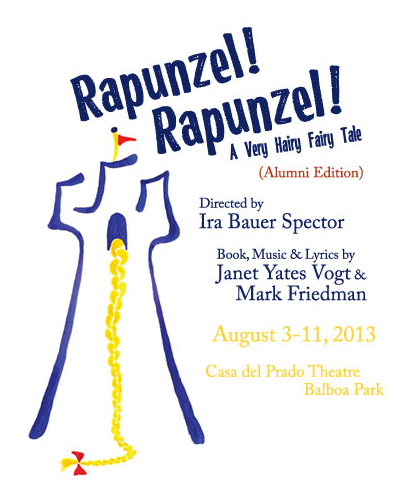 August 3–11, 2013
Directed by Ira Bauer-Spector
Book, Music, and Lyrics by Janet Yates Vogt and Mark Friedman
---
Rapunzel! Rapunzel! A Very Hairy Fairy Tale
(Alumni Edition)
On the edge of glory, the evil lady Za Za determines to rule the Kingdom by keeping the beautiful princess Rapunzel - with the long, long, long hair - trapped in a tower in the deep, dark, dank, dismal, dreary forest.
It'll be up to Sir Roderick - who is without a worthy quest - and his hairdresser friend Edgar - who is on a quest to find the perfect head of hair - to rescue Rapunzel and restore the Kingdom... With the help of a slightly neurotic gypsy woman (isn't there one in every fairy tale?) and a tired, yet witty, old dragon named Socrates who has lost his poof!
In this hilarious fairy tale adventure, princess Rapunzel may indeed find a way to escape the tower and take her rightful place as the ruler of the Kingdom - she will surely find a way inside your heart!
Fun for the whole family, with a score that ranges in style from pop to country. Shown in repertory with Guys and Dolls.
A JT Premiere! Third Annual Alumni Edition Show! Recommended all ages.
» Download Poster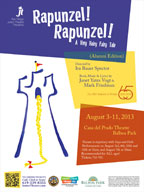 Book, Music, and Lyrics by Janet Yates Vogt and Mark Friedman. Presented through special arrangement with Vogt Friedman Music LLC, vogtfriedmancomposers.com. Production sponsored in part by the City of San Diego Commission for Arts and Culture, the City of San Diego Park and Recreation Department, and the County of San Diego. Illustration, Tony Cuccuzella.