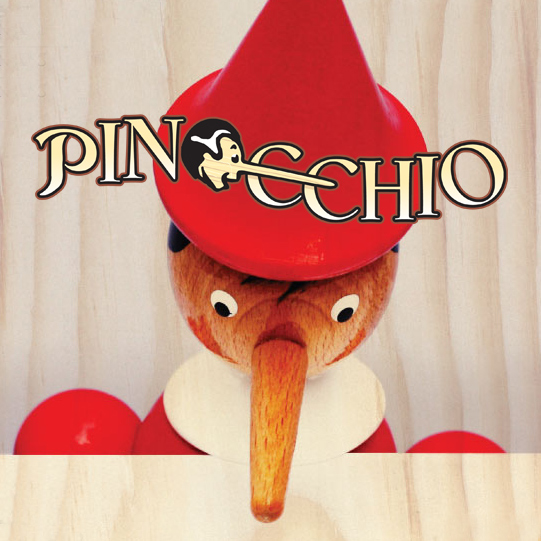 February 5–14, 2016
Directed by Shirley Johnston
Adapted for the Stage by Greg Banks
Based on the Story by Carlo Collodi
---
Pinocchio
»Download Poster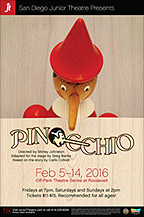 Carlo Collodi's classic tale is told through a clever new interpretation — a story within a story. While refurbishing an unfinished stage, a group of Italian construction workers happen upon an audience patiently awaiting the next performance of "Pinocchio." The workers quickly and creatively decide that the show must go on – and they must use only the tools and supplies they have available to create Pinocchio, his father, Geppetto and the rest of the set. Pinocchio, the wooden puppet who wants to become a real boy, is tested in many ways. When Geppetto is swallowed by a whale, Pinocchio must show his courage and prove that his love for his papa is real. While the tale is familiar, the story from a different viewpoint will surprise and satisfy audiences.
Recommended for all ages!
Cast List
Showman/Coachman - CJ Rabine
Gepetto - Maya Flores
#3 - Emily Talerman
Pinocchio - Aidan Sturm-Hilore
Cricket - Emilee Bond
Policeman/Child - Yoyo Yang
Fox/Lampwick - Carissa Michelle
Innkeeper/Donkey- Eleanor Riseout
Cat/Donkey- Aaron Chin
Muso - Connor Bradshaw
Ticketseller - Arthur Tsvyk
Judy - Sarah Kaplan
Punch - Martina Greco
Fairy - Natalie Grant
Annabella Leos
Emily McCulloch
Based on the story by Carlo Collodi. Adapted for the stage by Greg Banks. Originally commissioned and produced by The Children's Theatre Company, Minneapolis, MN. Produced by special arrangement with Plays for Young Audiences, a partnership of Seattle Children's Theatre and Children's Theatre Company - Minneapolis. Production sponsored in part by the City of San Diego Commission for Arts and Culture, the City of San Diego Park and Recreation Department, and the County of San Diego.