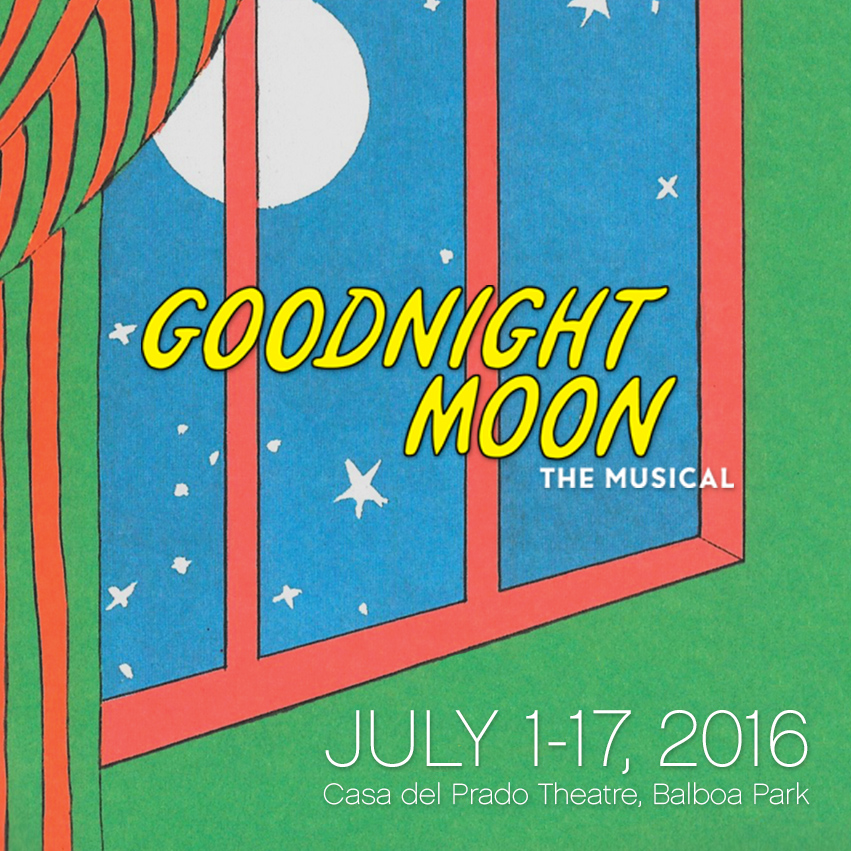 July 1–17, 2016
Directed by James Saba
Script, Music and Lyrics by Chad Henry
Additional Musical Arrangements by Mark Rabe
Adapted from the Book by Margaret Wise Brown
Illustrated by Clement Hurd
---
Goodnight Moon, the Musical
»Download Poster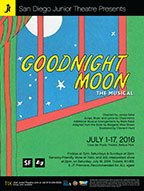 Margaret Wise Brown's classic story Goodnight Moon has been loved and passed down through the generations for more than 60 years. The bunny in the blue and white striped PJs wants to delay going to bed for as long as possible, so he says goodnight to every object in his room – and beyond. In this new musical adaptation by Chad Henry, the objects and characters jump off the pages, and the bunny's bedroom comes to life. Suddenly, the cat and the fiddle, red balloon, clocks and socks, kittens and mittens, and the cow jumping over the moon are just a few of the many that spring into action. Bedtime has never been so entertaining!
A JT Premiere! Recommended for all ages. Sensory-Friendly Performance, 11am Saturday, July 16, 2016. ASL-Interpreted performance, 2pm Saturday, Jul 16, 2016.
» Download Social Story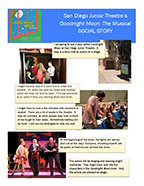 Video
Cast
Old Lady - Molly Nilsen
Bunny - Kelli Morris
Mouse - Mackenzie Wrape
Kitten 1 - Hayden Goldman
Kitten 2 - Soshian Wisner
Toy Elephant - Charlotte Dumbrell
Toy Giraffe - Thais Santana
Boy Doll - Emilee Bond
Girl Doll - Sophie Kelvin
Clock - Sofia St. Pe
Telephone - Maxwell Webster
Cat / Bear - Katy Dawson
Dog / Bear - Audrey Brewster
Dish-Spoon / Bear - Breeann Kindron
Cow (Claribel) - Malena Wilson
Moon - Eleanor Rideout
Tooth Fairy - CJ Rabine
Mr Nobody Dancers - Briar Bond, Elizabeth Brewster, Lian Gilor, Eleanor Rideout
Ensemble - Hannah Allen, Maya Archer, Lexi Blake, Briar Bond, Elizabeth Brewster, Maia Cabrera, Maria Castiglione, Sophia Castiglione, Isabella Combs, Charlotte Dumbrell, Lian Gilor, Sophie Kelvin, Emily McCulloch, Ava Polczynski, Caitlin Prior, Eleanor Rideout, Sofia St. Pe, Thais Santana, Isabella Stillwell, Kendall Sudweeks, Maxwell Webster
Crew
Stage Manager - Dani Balmat
Assistant Stage Manager - Becca Morrison
Lights - Wes Dameron
Spots - Megan Decker, Colette Huber
Sound - Emily Ince
Stagecrew - Lucas Gonzalez, Timothy Riley
Costumes/Makeup - Cierra Riddle, Nicole Wood, Allison Parra
Box Office - Hunter Katz, Isabelle Pickering
House Manager - Pierre Cozic
Past Performances
| | |
| --- | --- |
| | |
| | |
| | |
| School Day Show | |
| | |
| | |
| | |
| School Day Show | |
| | |
| | |
| | |
| | |
Script, music and lyrics by Chad Henry, with additional musical arrangements by Mark Rabe. Adapted from the book by Margaret Wise Brown, illustrated by Clement Hurd. Goodnight Moon is presented through special arrangement with HarperCollins Publishers. Copyright © 1947 and renewal copyright © 1975 by Albert Clarke III and John Thacher Hurd. Used by permission of HarperCollins Publishers. All rights reserved. Production sponsored in part by the City of San Diego Commission for Arts and Culture, the City of San Diego Park and Recreation Department, and the County of San Diego.