Doctor Dolittle
June 28, 2013–July 14, 2013
Directed by Joey Landwehr
Book, Music and Lyrics by Leslie Bricusse
Based on the stories by Hugh Lofting and the Twentieth Century Fox film
The classic tale of kindness to animals and animal kindnesses trots, crawls and flies onto the stage in a big, Broadway-sized family musical. All of the characters (human and animal) we've come to love through the stories of Hugh Lofting and the magical movie musical are given new life in this stage version.
A JT Premiere! Recommended for ALL ages. ASL-Interpreted performance 2pm, Sat July 13, 2013.
» Download Poster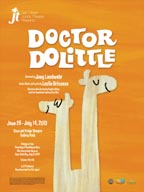 Cast
Aminah Al-Jaber - Ensemble/Villager
Jordan Anichini - Ensemble/Villager
Grace Asaro - Ensemble/Circus/Islander
Nicholas Asaro - Ensemble/Circus/Islander
Shannon Barry - Polynesia
Lauren Basurto - Ensemble/Circus/Islander
Fiona Beyerle - Ensemble/Circus/Islander
Tony Cabauatan - Ensemble/Circus/Islander
Vivian Casillas - Ensemble/Villager
Trystan Colburn - Albert
Shayne Cole - Ensemble/Villager
Pierre Cozic - Ensemble/Villager
Abby DeSpain - Bosie the Cat
Catalina Furra - Ensemble/Circus/Islander
Matthew Garbacz - Ensemble/Circus/Islander
Lucas Gonzalez - Chee Chee the Chimp
Michaela Griffin - DameDymmeWitt/Ens/Villager
Brooke Henderson Ensemble/Villager
Joshua Henson Ensemble/Villager
Garret Hoff General Bellows
Emily Ince Ensemble/Villager
Shane Jost Matthew Muggs
Nora Joyce Jip the Sheepdog
Austin Katz Pushmi/Ens/Circus/Islander
Hunter Katz Pullyu/Ens/Circus/Islander
Maia Larom Ensemble/Villager
Natalie Lusitana Ensemble/Circus/Islander
Olivia Marquez Ens/Circus/Islander
Shelby Myrman Ens/Circus/Islander
Melody Nunez Ensemble/Villager
Sophia Oberg Gertie
Tali Peled Ensemble/Circus/Islander
Rebecca Penner Emma Fairfax
Roberto Quinones Dr Dolittle
Maddy Ringer Ensemble/Circus/Islander
Lexy Blake Ensemble/Circus/Islander
Brandon Saldivar Gub Gub the Pig
Zoe Seely Sheila the Fox
Avery Solsbak Ensemble/Villager
Mashun Tucker Straight Arrow
Justin Whitney Tommy Stubbins
Spencer Whitney Rufus Bellows/Ens/Villager
Alissa Widdecke Dab Dab the Duck
Dariane Wood Ensemble/Villager
Ashley Young Ensemble/Circus/Islander
Crew
STAGE MANAGER - Justin Ruggiero
ASST STAGE MANAGER - Mark Barahura
LIGHT BOARD OP - Luke Ruggiero
SPOTS - Maddy Williams, Emily Morrison
SOUND BOARD OP - Isaac Brieske
STAGEHANDS - Ihmahni King-Murillo, Rachael Lopez-Ringer, Bella Basurto
COSTUMES/MAKEUP - Lily King-Smithson, Ruby O'Brien, Charly Montgomery, Adrienne Fleming, Nikkala Kovacevic, Sydney Rose Horowitz
BOX OFFICE - AJ Foggiano, Spencer Williams
HOUSE MANAGER - Brooke Collins
USHERS - Fiona Byrne, Gabriel Smith,Angelie Walker, Natassja Casillas
---
Book, music, and lyrics by Leslie Bricusse. Based on the Doctor Dolittle stories by Hugh Lofting and the Twentieth Century Fox film. Presented through special arrangement Music Theatre International (MTI). All authorized performance materials are also supplied by MTI, 421 West 54th Street, New York, NY 10019. Phone 212-541-4684. Fax 212-541-397-4684. www.MTIShows.com. Production sponsored in part by the City of San Diego Commission for Arts and Culture, the City of San Diego Park and Recreation Department, and the County of San Diego.