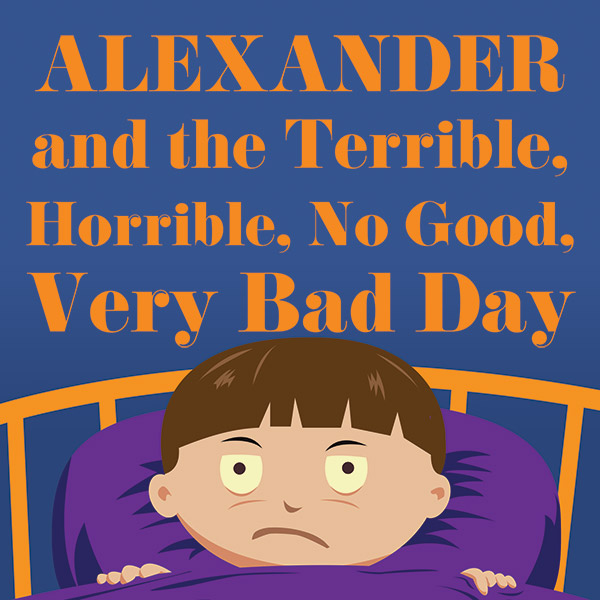 January 8–24, 2016
Directed by Sean Boyd
Book and Lyrics by Judith Viorst
Music by Shelly Markham
Based on the books by Judith Viorst
Part of Rippledink's Repertory
---
Alexander and the Terrible, Horrible, No Good, Very Bad Day
»Download Poster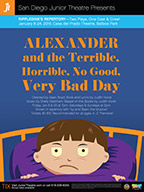 Alexander is having a bad day. A terrible day. A horrible day. To be quite honest, it's a terrible, horrible, no good, very bad day. But then, everybody has bad days, sometimes. In this delightful adaptation of her popular book, Judith Viorst sets Alexander's rather trying life to music and brings to the stage one of America's feistiest characters. Not only does Alexander wake up with gum in his hair, but his mother forgets to pack him dessert, and his best friend decides he's not his best friend anymore. And if that's not bad enough, Alexander's brothers don't have any cavities but—he does. And just when it can't get any worse, there are lima beans for supper and — yuck! — kissing on TV. It is enough to make anyone want to go to Australia.
Alexander's struggles with life's daily dramas will not only entertain but educate young audiences as they identify with Alexander and the obstacles he encounters, encouraging them to share their feelings and to realize that bad days happen — even in Australia.
A JT Premiere! Recommended for all ages.

Part of Rippledink's Repertory
Shown in Repertory with Ivy + Bean, the Musical.
Two plays, shown in repertory over three weekends at Casa del Prado Theatre in Balboa Park, Rippledink's Repertory features the same students, rotating from cast to cast for both shows!

Book and lyrics by Judith Viorst. Music by Shelly Markham. Based on the books by Judith Viorst. Originally commissioned and premiered by the John F. Kennedy Center for the Performing Arts. Alexander and the Terrible, Horrible, No Good, Very Bad Day is presented through special arrangement with Dramatic Publishing, 311 Washington St, Woodstock, Illinois 60098. Phone 815-338-7170. Fax 815-338-8981. www.dramaticpublishing.com. Production sponsored in part by the City of San Diego Commission for Arts and Culture, the City of San Diego Park and Recreation Department, and the County of San Diego.