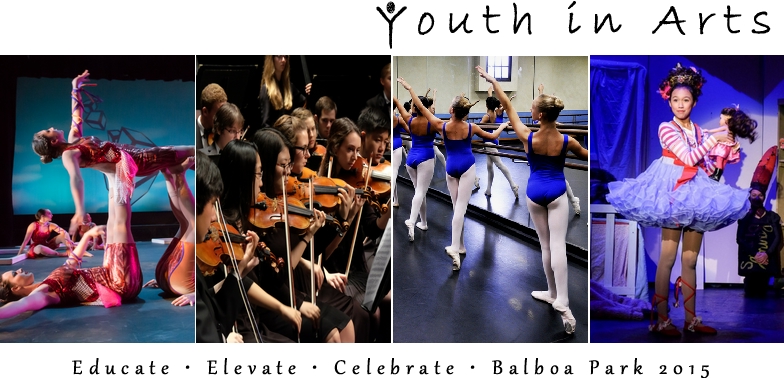 EDUCATE, ELEVATE and CELEBRATE with Historic Balboa Park
Youth Organizations at "YOUTH IN ARTS" Exhibit
WHO
San Diego Civic Youth Ballet (SDCYB), San Diego Junior Theatre (SDJT), San Diego Youth Symphony & Conservancy (SDYS) and San Diego Civic Dance Arts (SDCDA)
WHAT
For generations, countless students have entered the halls of the historic Casa del Prado to enrich their lives through dance, theatre, music and the magic of live performance. This fall, San Diego Civic Youth Ballet, San Diego Junior Theatre, San Diego Youth Symphony & Conservatory and San Diego Civic Dance Arts will come together to share our collective stories through an ongoing exhibit in the Casa del Prado Theater.
On November 14th and 15th, please join us for a free interactive weekend full of unique experiences including tours of the Casa del Prado Theater, interactive activities for patrons of all ages and free workshops for youth held by each participating organization. This will culminate in a historic performance in which workshop participants and select performers from SDCYB, SDJT, SDYS & SDCDA will come together to present a snapshot of the arts education that continues to thrive in Balboa Park. As a special treat for our community, Balboa Park Ranger Kim Duclo will emcee the performance.
"Youth in Arts" will educate, elevate and celebrate the impact that has been made on our community through decades of educational and artistic opportunities.
WHEN
Exhibit opens October 2, 2015 and runs through December 20, 2015, with a weekend featuring free interactive activities on November 14th and 15th.
WHERE
The Casa del Prado Theater in Balboa Park at 1800 Village Place, San Diego, CA, 92101
Click here to register for a free workshop: Youth In Arts Workshops