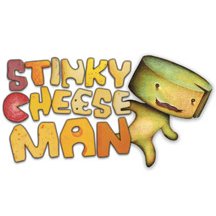 January 5–20, 2013
Directed by Ira Bauer-Spector
By Kent Stephens, adapted from the
book by Jon Scieszka and Lane Smith
Music by Gary Rue
Part of Rippledink's Repertory
---
The Stinky Cheese Man
» Downlod Poster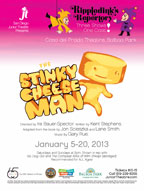 The stories start as familiar fairy tales: The Little Red Hen, Cinderumpelstiltskin, Jack and the Beanstalk — then something happens.
Did the plots get mixed up? How will they end?
Enter this topsy-turvy, delightful tour through some of the most famous fairy tales and see how things could have turned out... and be ready for some happily-ever-after laughter!
Recommended for ALL ages!
Part of Rippledink's Repertory
Shown in Repertory with The Compleat Wrks of Wllm Shkspr (abridged) and Go, Dog. Go!
Three plays, shown in repertory over three weekends at Casa del Prado Theatre in Balboa Park, Rippledink's Repertory features the same students, rotating from cast to cast for both shows!


Originally commissioned and produced by SteppingStone Theatre for Youth Development, St. Paul, Minnesota; Richard Hitchler, Artistic Director. Production sponsored in part by the City of San Diego Park and Recreation Department, the San Diego Commission for Arts and Culture and the County of San Diego. Illustration copyright 1992 by Lane Smith, lanesmithbooks.com. Used with permission from Penguin Books for Young Readers. All rights reserved. Cheese provided by Venissimo Cheese, 754 West Washington Street, San Diego, 619-491-0708, www.venissimo.com.