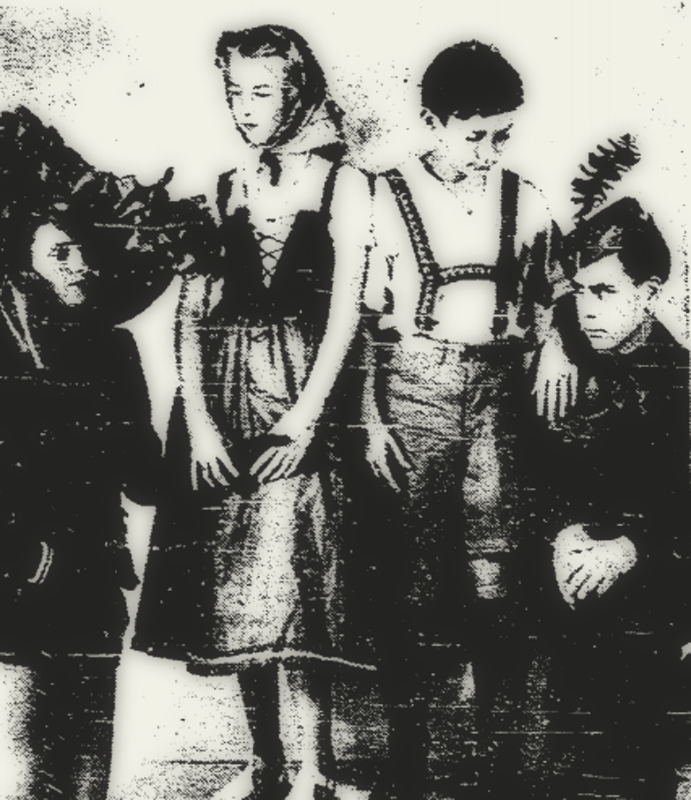 August 22–24, 1945
---
The Blue Bird
Maurice Maeterlinck's The Blue Bird, a Fantasy in Two Acts was the first large production presented by San Diego Children's Theatre in 1945. It was performed by students of the summer workshop program.
Cast
Tyltyl - Jimmy Warrington
Mytyl - Ina Sue Dobbs
Fairy - Janet Stanton
Fire - Tommy Simms
Tylette the Cat - Patsy Thompson
Tylo the Dog - Raymond Yanes
Water - Arlene Southworth
Milk - Ann Ruplinger
Sugar - William Tucker
Bread - Arthur Bunge
Light - Suzanne Maloney
Daddy Tyl - Eddie Seamon
Mummy Tyl - Florence Templado
Gaffer Tyl - Gordon Longfellow
Granny Tyl - Mary Ellen Norsworthy
Night - Audray Handrock
Cold-in-the-Head - Reita Moore
Father Oak Tree - Donald Greiner
Poplar - Marilyn Wilt
Lime Tree - Tommy Hemphill
Ivy - William Handrock
Rabbit - Gary Fisher
Wolf - James Budvarson
Sheep - Mary Rhodes
Pig - Charles Hensen
Donkey - Lloyd Wright
Father Time - John Clinger
Neighbor's Little Girl - Fay Sarver
Guardians - Barbars Jones, Barbara Mumbry
Ghosts - Joy Wright, Mary Barton
Children - Peggy Bradshaw, Dittmar Luers, Mary Joanne Dougherty, Philip Hutchens
Blue Children - Ronald Johnson, David Weisbly, Mary Pearce, David Ackerman, Bruce Ackerman, Mary Lane, Jimmy Hutchens, Mary Dell Hutchens, Lynda Dobbs, Karen Kaye Dobbs, Jack Clos, William Clos, Ginger Brown, Joan Ernst, Janet O'Hara, Katie O'Hara, Judy Lane
With Colleen Wagster, Mary Louise Legarra, Ernie Lou Barton, Joanne Clardy, Marilyn Wilt, Jean DaFoe, Hollis Johnson, Barbara Richard
Past Performances
Production sponsored in part by the City of San Diego Park and Recreation Department.