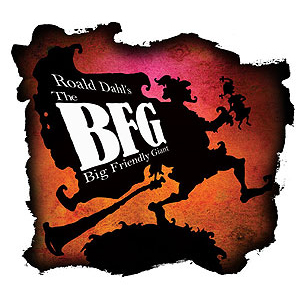 February 27, 2009–March 15, 2009
Directed by Will Neblett
Adapted for the Stage by David Wood
From the Book by Roald Dahl
---
The BFG (Big Friendly Giant)
When Sophie is whisked away from the orphanage in the middle of the night, she plunges into a thrilling adventure with the gentle, lovable, BFG - Big Friendly Giant. Visits to Giant Country, blowing dreams into children's bedrooms and eating snozzcumbers are all part of the BFG's world, but so are childchewers, bloodbottlers, and fleshlumpeaters. Join Sophie for a whizzpopping time as she ventures into Dahl's fantastical world and learns about the perils of being selfish and the rewards of true friends.
Directed by San Diego Junior Theatre's executive director, Will Neblett. The first rehearsal was Thursday, Jan 15 from 4-6pm in Room 207 in the Casa del Prado Building.
A JT Premiere! Recommended for ages 6 and older, for fairy-tale violence. ASL-Interpreted performance, 2pm Sat, Mar 14, 2009.
» Download Poster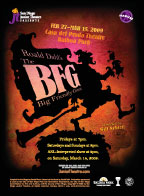 Cast
Sophie - Sophia Oberg
BFG/Dad - Alex Dunbar
Fleshlumpeater - Michael Covington
Bloodbottler - Chase Clemesha
Bonecruncher - Gabrielle Jarrett
Gizzardgulper - Marlene Paradee
Childchewer - Sophia Johnson
Meatdripper/Queen of Sweden - Brittany Michael
Maidmasher - Kelsey Falk
Manhugger - Natasha Chandler
Queen of England/Mum - Jessica Delgado
Mary - Grace Schenck
Daniel/Head of the Air Force - Darian Spencer
Guy/Head of the Army - Jorge Merino
Sam/Mr Tibbs - Gregory Maginn
Rebecca - Claire Steitz
Katherine - Emily Morrison
Based on The B.F.G. by Roald Dahl. Adapted for the stage by David Wood. Production sponsored in part by the City of San Diego Commission for Arts and Culture, the City of San Diego Park and Recreation Department, and the County of San Diego.