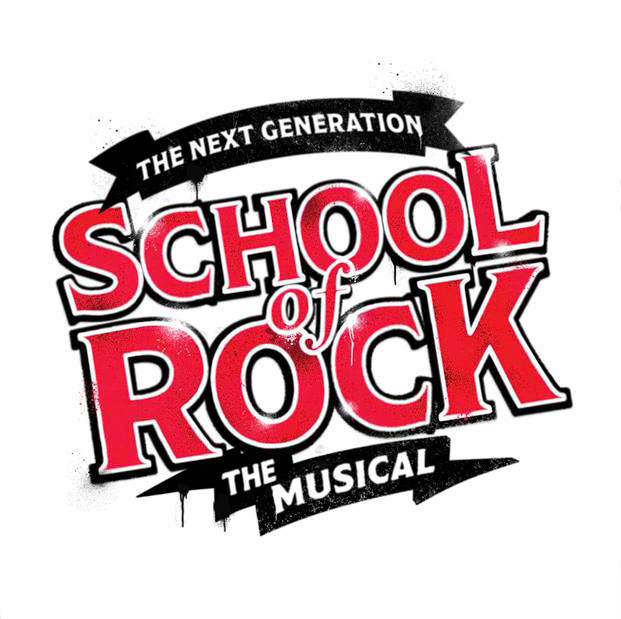 October 25, 2019–November 3, 2019
---
School of Rock
» Download Poster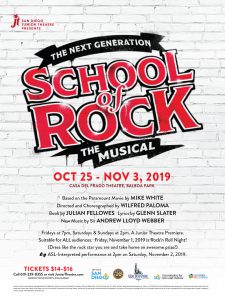 Based on the hit movie, School of Rock is the story of wannabe rock star Dewey Finn, who poses as a substitute teacher at a prestigious prep school. When he discovers his students' musical talents, he enlists them to form a rock group and conquer the Battle of the Bands.
A Junior Theatre Premiere. Suitable for ALL audiences!
Friday, November 1 is Rock n' Roll night. Dress like the rock star you are and take home a fun prize!

ASL-Interpreted performance, 2pm, Saturday, November 2, 2019.
Cast
Dewey Finn - Devon Jack
Rosalie Mullins - Ceinna Wolters
Ned Schneebly - Ben Park
Patty Di Marco - Alexandra Adsit
Summer - Grace Balkowski
Tomika - A'verie Bell
Zack - Oliver Davis
Lawrence - Graham Kroonen
Freddy - Jameson Johnston
Katie - Pita Birkbeck
Shonelle - Ezri Alvarez
Marcy - Alex Walker
Billy - Bennett Halle
Theo - Trevor Standifer
Doug - Alex Dowie
Bob - Demian Deonarine
Teachers/Parents: Alex Dowie, Amparo Sagun, Ava Wadia, Cassidy Walters, Connor Bradshaw, Delaney Renwick, Demian Deonarine, Genevieve Foster, Kai West, Katie Ditter, Mika Peck, Paulina Zepeda, Soshian Wisner, Sydney Kroonen, Thais Santana, Trevor Standifer, Zoey Mendehall
Students: Anabella Leos, Anton Schneiderwind, Aribella Presley, Ayla Feren, Gabe Gerson, Jacobo Birkbeck, Keiran Collins, Leah Rojas, Luke Renner, Maia Cabrera, Marina Hall, Natalie Spencer, Sophie Kelvin, Syrena Peck, Tristan Heil
Crew (partial)
Stage Manager - Marlee Koury
Assistant Stage Managers - Lainey Bowler and Eli Thoron
School of Rock is presented by arrangement with The Musical Company, a Concord Theatricals Company, 229 West 28th Street, 11th Floor, New York, NY 10001. Website: www.themusicalcompany.com. Phone: 212-598-2204. Email: [email protected]. Production sponsored in part by the California Arts Council, the County of San Diego, the City of San Diego Commission for Arts and Culture, and the City of San Diego Park and Recreation Department. The School of Rock logo is copyright © 2016 by The Really Useful Group Ltd. All rights reserved.