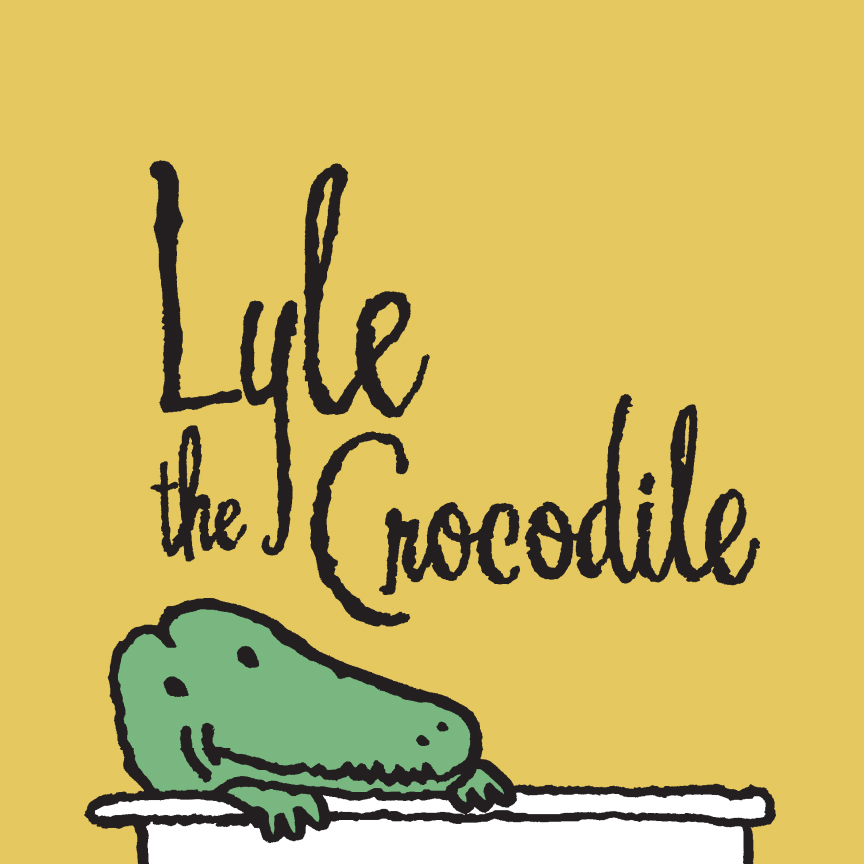 January 7–22, 2017
Directed by Teri Weisenberg Ang
Adapted for the Stage by Kevin Kling
Based on the Books by Bernard Waber
Music by Michael Koerner
---
Lyle the Crocodile
When the Primms move to the Upper East Side of New York City, they discover a surprise in their new home. There in the tub of their upstairs bathroom is a crocodile! The good news, however, is that he's very friendly.
»Download Poster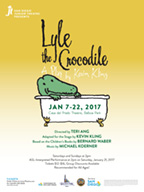 Called Lyle, the croc becomes the family pet. Lyle also gains the trust and friendship of most of the neighbors. But slow to join those ranks is Mr. Grumps; he hates just about everything. It isn't until Mr. Grumps and his cat are victims of a fire and rescued by Lyle when the curmudgeon changes his mind about the Primm's reptilian family member. It's not all smooth-sailing for the Primms and Lyle, though. When Lyle's original owner, Hector P. Valenti, decides to reclaim his croc, the family and Lyle are heartbroken. In the end, fortunately, Valenti is persuaded that Lyle belongs with the Primms

Rippledink Recommends!
ASL-Interpreted performance, 2pm, Saturday, January 21, 2017.
Cast
Lyle - Chase Anichini
Mr Grumps - Imahni King-Murillo
Hector - Abby Caudill
Mr Primm - Miguel Avila
Mrs Primm - Alexis Bowlby
Joshua - Ava Wadia
Mrs Nitpicker - Carly Walton
Mover #1 / Kid - Amanda Brown
Mover #2 / Ensemble - Emma Schaeffer
Firefighter #1 / Kid - Ava Strickland
Firefighter#2 / Ensemble - Sydney Kroonen
Croc #1 / Kid - Zachary Dorros
Croc #2 / Ensemble - Katy Dawson
Loretta (Cat)- Avery Jacobson
Kid #1 - Bella Rabine
Kid #2 - Sophia Castiglione
Kid #3 - Summer Kocher
Kid #4 - Rosa Brooks Kamper
Kids - Sophia Valenti, Annabella Leos, Ari Berger, Graham Kroonen, Annabelle Foster
Ensemble - Lainey Bowler, Genna Foster, Jacquelyn Voegele, Maria Castiglione
Presented through special arrangement with Plays for Young Audiences, a Partnership of Seattle Children's Theatre and Children's Theatre Company Mineapolis, 2400 Third Avenue South, Minneapolis, MN 55404. Lyle the Crocodile was first presented by The Children's Theatre Company, Minneapolis, for their 1990-1991 Season. Production sponsored in part by the City of San Diego Commission for Arts and Culture, the City of San Diego Park and Recreation Department, and the County of San Diego.