Guys and Dolls
July 26, 2013–August 11, 2013
Directed by Steve Anthony
Book by Jo Swerling and Abe Burrows
Music and Lyrics by Frank Loesser
Set in Damon Runyon's mythical New York City, this oddball romantic comedy — considered by many to be the perfect musical — soars with the spirit of Broadway as it introduces us to a cast of vivid characters: Sarah Brown, the upright but uptight "mission doll;" Sky Masterson, the slick, high-rolling gambler; Adelaide, the chronically ill nightclub performer; and Nathan Detroit, her devoted fiancé, desperate as always to find a spot for his infamous floating crap game.
See why TIME Magazine called Guys and Dolls "the greatest of all American musicals!"
Recommended for ages 10 and older. ASL-Interpreted performance, Sat Aug 10, 2013, 2 p.m.
» Download Poster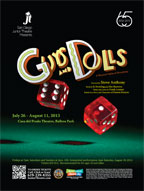 Cast
Sky Masterson - Isaac Brieske
Sarah Brown - Talia Berkstein
Nathan Detroit - Ben Shaffer
Miss Adelaide - Lizzie Morse
Benny Southstreet - AJ Foggiano
Harry the Horse - Corey Hable
Nicely Nicely - Ben Sutton
Arvide - Spencer Williams
Big Jule - Patrick Gates
General Cartwright - Alexa Bitsko
Hot Box Girls - Alexa Cohen, Brooke Collins, Alana Fineman, Lily King-Smithson, Charly Montgomery, Kelly Prendergast, Hanna Samson, Kayla Solsbak
Ensemble - Ricky Bew, Kendall Buggs, Jazley Genovese, Alex Huber, Kimberly Marron, John Michel, Josh Morones, Sarah Murray, Lane Palhegyi, Alexis Park, Casey Purlia Johnson, Scott Roberts, Jacob Rodebaugh, Darian Spencer, Madeleine Williams
Crew
Stage Manager - Hannah Corder
Asst Stage Manager - Kailey Berry
Light Board Op - Ruby O'Brien
Spots - Austin Katz, Ryan Tollefson
Sound Board Ops - Hunter Katz, Mark Barahura
Stagehands - Pierre Cozic, Ben Supranovich, Kelly Scheurer, Ihmahni King-Murillo
Costumes/Makeup - Eliana Bazzo, Colette Huber, Shayne Cole, Maia Larom, Jade Moujaes
Box Office - Fiona Beyerle, Michaela Griffin
House Manager - Spencer Whitney
Ushers - Vivian Casillas, Abbey DeSpain, Emily Ince, Justin Whitney
---
Music by Andrew Lippa. Guys and Dolls, a Musical Fable of Broadway is based on a story and characters of Damon Runyon. Book by Jo Swerling and Abe Burrows. Music and Lyrics by Frank Loesser. Guys and Dolls is presented through special arrangement Music Theatre International (MTI). All authorized performance materials are also supplied by MTI, 421 West 54th Street, New York, NY 10019. Phone 212-541-4684. Fax 212-541-397-4684. www.MTIShows.com. Production sponsored in part by the City of San Diego Commission for Arts and Culture, the City of San Diego Park and Recreation Department, and the County of San Diego.