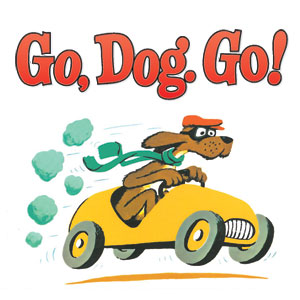 January 5–20, 2013
Directed by Erin Peterson
Adapted for the stage by Allison Gregory & Steven Dietz
Based on the book by P.D. Eastman
Music by Michael Koerner
Part of Rippledink's Repertory
---
Go, Dog. Go!
»Download Poster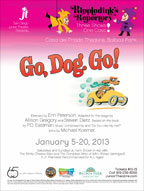 P.D. Eastman's classic children's book comes to life on stage in an exploration of movement, color and space.
The dogs delve into life with gusto, creating a visual feast for the audience.
This big and little musical world of doggy fun is like a pop-up book that comes to life—and never stops!
A JT Premiere! Recommended for ALL ages!

Part of Rippledink's Repertory
Shown in Repertory with The Stinky Cheese Man and The Compleat Wrks of Wllm Shkspr (abridged)
Three plays, shown in repertory over three weekends at Casa del Prado Theatre in Balboa Park, Rippledink's Repertory features the same students, rotating from cast to cast for both shows!

Adapted for the stage by Allison Gregory & Steven Dietz. Based on the book by P.D. Eastman. Music composed by and "Do You Like My Hat?" lyrics by Michael Koerner. Presented through special arrangement with Plays For Young Audiences, 2400 Third Avenue South, Minneapolis, MN 55404. Phone: 612-872-5108. www.PlaysForYoungAudiences.org. Production sponsored in part by the City of San Diego Commission for Arts and Culture, the City of San Diego Park and Recreation Department, and the County of San Diego.