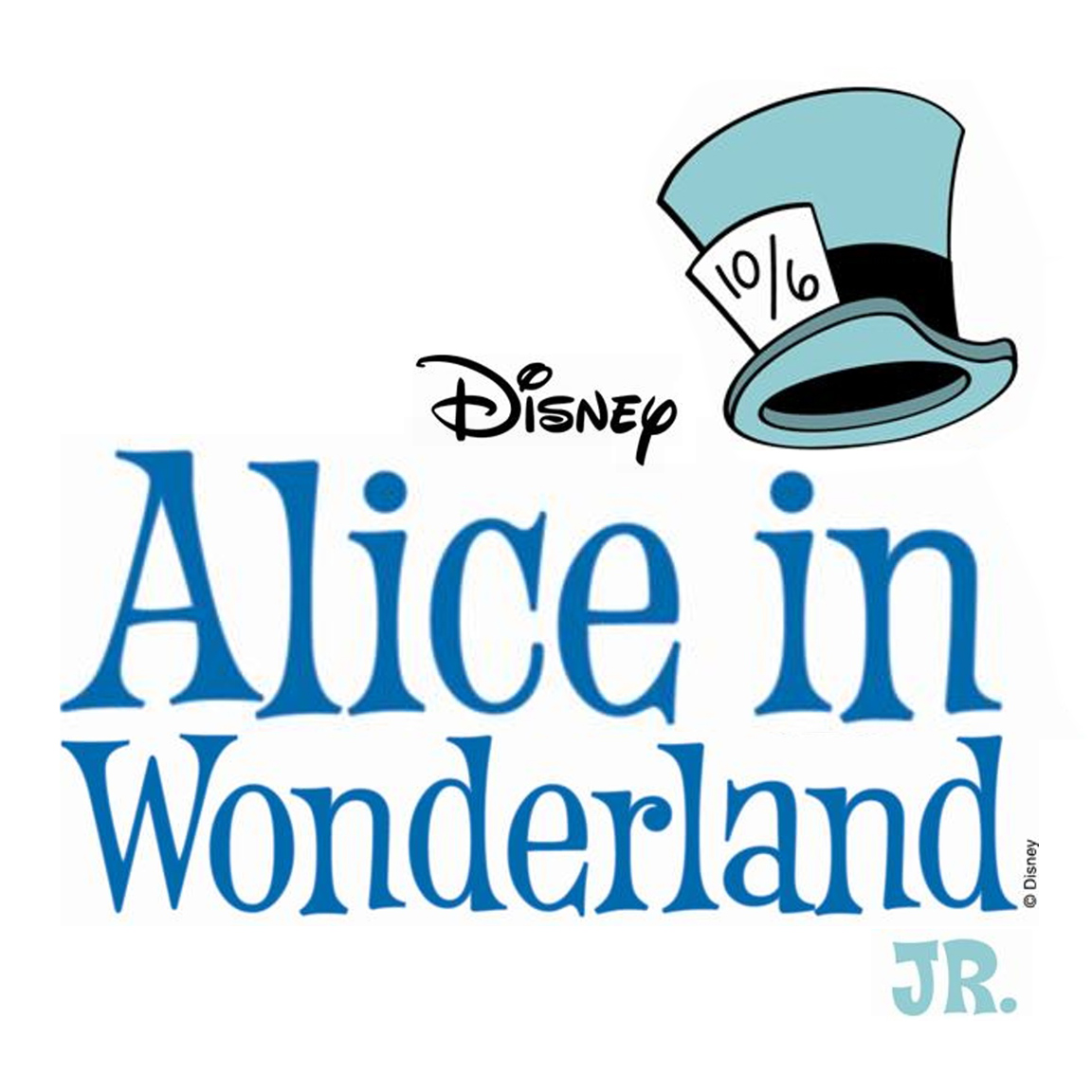 November 13–22, 2015
Directed by Eric von Metzke
Music and Lyrics by Sammy Fain and Bob Hilliard,
Oliver Wallace and Cy Coban, Allie Wrubel and Ray Gilbert,
Mack David, Al Hoffman and Jerry Livingston
Based on the works of Lewis Carroll and the 1951 Disney film
---
Disney's Alice in Wonderland, Jr
» Download Poster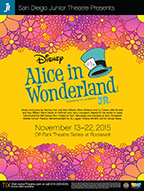 A fun-filled Disney adaptation of Lewis Carroll's classic story brings beautiful heroine Alice into a fantastic world of famous characters. The White Rabbit, Tweedledee and Tweedledum, Dodo Bird, Caterpillar and of course a sinister Queen of Hearts are all encountered by the inquisitive Alice, and while the story is well-known and loved, a few surprises abound. (Can you even imagine three Cheshire Cats, instead of just one? And have you ever happened upon a garden full of mean-girl flowers?)
This fast-paced musical features updated dialogue and well-loved Disney lyrics set to new tunes; you'll recall familiar songs such "I'm Late," "The Unbirthday Song" and "Zip-A-Dee-Doo-Dah" in a whole new way.
Recommended for all ages. TWO WEEKENDS ONLY!
Cast List
Alice - Brenna Fineman
Queen of Hearts - Teia Shannon Wright
King of Hearts - Brett Atchison
Chesire Cats - Maia Gilbert, Alice Redhead, Nicole del Moral
White Rabbit - Sam Nelson
Tweedle Dee - Gianna Merghart
Tweedle Dum - Delanie Tasto
Mad Hatter - Veronica Berg
March Hare - Sophia Castiglione
Caterpillar - Zena Gallouzi
Dodo - Maya Wallace
Flowers - Sophia Valenti, Asha Khanna, Kahlia Canada, Madeleine Glassford, Miranda Ferreira
Ensemble - Fiona Byrne, JC Calleros, Maria Castiglione, Sara Evarts, Genna Foster, Rayne Gonzalez, Michael Gutierrez, Zachary Merghart, Cate Parker, Bella Stillwell, Max Webster, Kamilah Zeiler
Crew List
Stage Manager - Maddie Ringer
Crew - Alexandra Adsit, Megan Brown, Riley Cox, Carisma De Anda, Annabelle Foster, Saedy McCoy, Paulina Zepeda
Music & lyrics by Sammy Fain and Bob Hilliard, Oliver Wallace and Cy Coban, Allie Wrubel and Ray Gilbert, Mack David, Al Hoffman and Jerry Livingston. Music adapted & arranged and additional music & lyrics by Bryan Louiselle. Book adapted & additional Lyrics by David Simpatico. Based on the 1951 Disney film Alice in Wonderland and the novels The Adventures of Alice in Wonderland and Through the Looking Glass by Lewis Carroll. Disney's Alice in Wonderland, Jr is presented through special arrangement with Music Theatre International (MTI). All authorized performance materials are also supplied by MTI. 421 West 54th Street, New York, NY 10019. Phone: 212-541-4684. Fax: 212-397-4684. www.MTIShows.com. Production sponsored in part by the City of San Diego Commission for Arts and Culture, the City of San Diego Park and Recreation Department, and the County of San Diego.