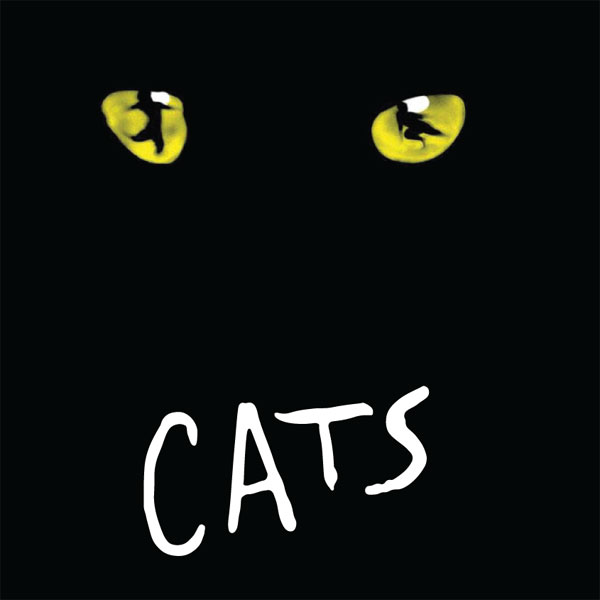 October 24, 2008–November 9, 2008
---
Cats
Based on T.S. Eliot's whimsical set of poems, Old Possum's Book of Practical Cats, this beloved Andrew Lloyd Webber musical tells the stories of the Jellicle tribe of cats. Cats, produced around the world and translated into more than 20 languages, bursts with song and dance, and is a delight for the whole family.
No performance on Friday, October 31, 2008. ASL-Interpreted performance at 2pm on Saturday, November 8, 2008.
A JT Premiere! Limited Engagement. Recommended for ages 8 and older, for intense situations.
» Download Poster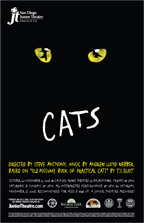 Cast
Mr Mistoffelees - Robert V. Turner
Jennyanydots - Marianne Zumberge
Mungojerrie - Julian Montijo
Rumpleteazer - Olivia Puckett
Gus the Theatre Cat - Ryan Luster
Old Deuteronomy - Alex Dunbar
Bombalurina - Katerli Crail
Munkustrap - David Siciliano
Demeter - Lauren Green
Grizabella - Maddie Baldwin
Macavity/Rumpus Cat - Jake Fineman
Rum Tum Tugger - Jacob Sampson
Jellylorum - Rachel Liuzzi
Skimbleshanks - Dylan Hoffinger
Bustopher Jones - Morgan Hollingsworth
Victoria the White Cat - Cleo Person
Cat Ensemble - Julia Nardi-Loving, Spencer Williams, Meeshi Malachowski, Erica Malachowski, Alana Fineman, Marina Inserra, Alexandra Lee, Casey Jaquez, Fiona Beyerle, Alexandra Brady, Ruby Ross, Angela Ahern, Gregory Martin, Isabelle Pickering, Paige Solomon, Brooke Collins, Maddy Harvey, Julie Inserra
Pit Singers - Cristina Contreras, Shir Gershond, Sophia Johnson, Caleb Crail, Amanda Blanco, Mary Reagan, Colette Huber, Dakota Berkeley
Presented by Cameron Mackintosh and the Really Useful Theatre Co. Limited. First performed at the New London Theatre. Originally presented in America by the Shubert Organization, Cameron Mackintosh, The Really Useful Company and David Geffen. Original Broadway production Directed by Trevor Nunn, Associate Directed and Choreographed by Gillian Lynne, Designed by John Napier, Orchestration by David Cullen and Andrew Lloyd Webber. Production sponsored in part by the City of San Diego Commission for Arts and Culture, the City of San Diego Park and Recreation Department, and the County of San Diego.